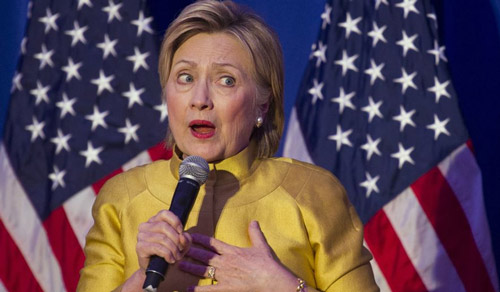 Failed former Democratic presidential nominee Hillary Clinton is now directly questioning the legitimacy of the 2016 elections, citing the discredited deep state narrative that Donald Trump worked with the Russians as one of her reasons despite the fact that her own campaign colluded with "Russian sources" to spread disinformation about President Trump through what would eventually become known as the "Trump dossier."
Clinton made the comments in a wide ranging interview with the always friendly Mother Jones Senior Reporter Ari Berman where she stated that there are many questions about the actual legitimacy of the last presidential election in which she lost.
During the interview Berman asked Clinton, "So between the Republican voter suppression you talked about and Russian interference, do you think it was a legitimate election?"
"I think that there are lots of questions about its legitimacy, and we don't have a method for contesting that in our system. That's why I've long advocated for an independent commission to get to the bottom of what happened. Because, look, this is the first time we've ever been attacked by a foreign adversary, and then they suffer no real consequences," Clinton replied.
"And so, I'm worried that we're not learning all the lessons, it's one of the reasons why I wrote the book. Because I wanted people at least to understand what I saw as the factors, including shortcomings of myself and my campaign. But the forces at work outside my campaign are not going away. Somebody else is going to be running for Congress, or governor, or eventually president. We've got to know how to protect ourselves."
Berman then attempted to get Clinton to double down by specifically clarifying that she was stating she had questions about the election itself. Clinton happily obliged.
"I do, sure. Because I think, as we learn more about it, we know that the web of connections between people on Trump's team and Russian representatives just gets more and more dense."
The interview is flabbergasting to say the least, especially when you consider that some of the reasons cited by Clinton are literally exactly what she and her campaign actually carried out themselves!
Remember, it has already been revealed that Clinton's campaign paid opposition research firm Fusion GPS to find dirt on then candidate Donald Trump. Fusion GPS then hired former British spy Christopher Steele who turned to his admittedly Russian sources to come up with the now infamous Trump dossier.
"That's right, in a literal reverse of what the entire mainstream media has fed the American people for over a year, we now have evidence that, either wittingly or unwittingly, the Clinton campaign and the DNC paid for what amounted to disinformation that came directly from "Russian sources," I reported for SHTFplan in an article about Hillary's collusion with Russia.
"Obviously this may seem truly unbelievable to some, but the facts speak for themselves and there is no denying that Democrats paid a shady opposition research company to try and dig up dirt on Donald Trump who then subsequently hired former British spy Christopher Steele. Steele then openly used Russian sources for most of the serious allegations in the Russia dossier."
Amazingly, it was the mainstream media themselves that revealed that Steele's paid sources were Russians, long before it was confirmed that the Clinton campaign had paid for the entire operation.
Buried deep in a report by Vanity Fair that spends thousands of words trying to pretend that the dossier could be legitimate, is this nugget that paints a picture of direct or indirect collusion between the Clinton team and Russia.
How good were these sources? Consider what Steele would write in the memos he filed with Simpson: Source A—to use the careful nomenclature of his dossier—was "a senior Russian Foreign Ministry figure." Source B was "a former top level intelligence officer still active in the Kremlin." And both of these insiders, after "speaking to a trusted compatriot," would claim that the Kremlin had spent years getting its hooks into Donald Trump.

Source E was "an ethnic Russian" and "close associate of Republican US presidential candidate Donald Trump."
It is cut and dry. Hillary Clinton is now attempting to stir up even more anti-Trump sentiment by questioning the election itself when there is documented evidence that money from her campaign was used to gather disinformation from Russia to hurt Donald Trump.
This is a confirmed reality yet Clinton was predictably not questioned on this shocking hypocrisy by the liberal reporter who most likely shares Clinton' reverse reality beliefs as well.