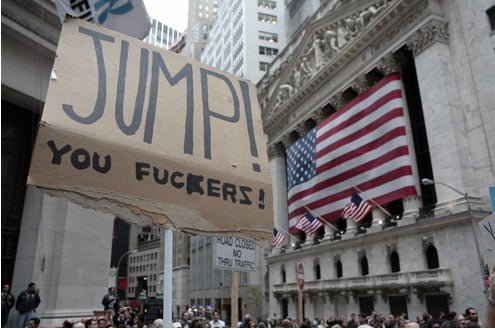 At this time, we can only speculate what was weighing upon banker Kevin Bell before he jumped. Short of a note, or any direct evidence, the powers that be have determined he was simply depressed.
It may also be, that the closer we all come to a set of devastating events that will wipe out and reset the economic landscape, the more people are losing it under pressure, and equally, the more that certain people are gotten rid of.
Did he know something specific?
We may never know whether this man was speaking out against something that was happening, uncomfortable with something he was being asked to cover for or that he witnessed. However, we do know that he was no insignificant investment professional – according to his LinkedIn profile, he was a former managing director at both Citigroup and Deutsche Bank. For the last couple of years before his death, he was in charge of Credit Risk for Arrowgrass Capitol Partners, a firm that touts its "consistent risk-adjusted returns."
via the Daily Mail:
A father-of-two hedge fund executive committed suicide Wednesday morning by jumping out of his luxury Manhattan apartment building.

Kevin Bell jumped out of a ninth-floor window at the historic Anthorp Building on the Upper West Side around 7.20am, landing on some scaffolding set up in front of the building.

The 47-year-old Duke graduate was pronounced dead at the scene.

Sources told the New York Post that Bell left behind a note saying that he was depressed.

'The family is hysterical. He was under a lot of meds. He did not give a specific reason why he jumped, but he was depressed,' the source said.

[…]

Bell was a Duke graduate who worked as the head of credit risk at Arrowgrass Capital Partners. 
Though his death may well have been due to personal depression, and personal problems, there may well be more to the story.
His death is the latest in a long-string of mysterious banker deaths. With dozens on the list, the case is well beyond just the personal struggles of people working in banking – it is a pattern of purging exposure within the banking system.
According to Douglas Hagmann:
Although the trail of mysterious and bizarre deaths detailed below begin in late January, 2014, there are others. Not only that, there will be more, according to sources within the financial world. Based on my findings, these are not mere random, tragic cases of suicide, but of the methodical silencing of individuals who had the ability to expose financial fraud at the highest levels, and the complicity of certain governmental agencies and individuals who are engaged in the greatest theft of wealth the world has ever seen.

The missing and the dead: a timeline

The following is provided as a chronological list of those who have gone missing or been found dead under mysterious circumstances. It is important to note that this list consists of names of the most recent incidents. There are more that extend back through 2012 and beyond.

January 11, 2014

MISSING: David Bird, 55, long-time reporter for the Wall Street Journal working at the Dow Jones news room, went for a walk on Saturday, January 11, 2014 near his New Jersey home and disappeared without a trace. Mr. Bird was a reporter of the oil and commodity markets which happened to be under investigation by the U.S. Senate Permanent Subcommittee on Investigations for price manipulation.

January 26, 2014

DECEASED: Tim Dickenson, a U.K.-based communications director at Swiss Re AG, was reportedly found dead under undisclosed circumstances.

DECEASED: William Broeksmit, 58, former senior manager for Deutsche Bank, was found hanging in his home from an apparent suicide. It is important to note that Deutsche Bank is under investigation for reportedly hiding $12 billion in losses during the financial crisis and for potentially rigging the foreign exchange markets. The allegations are similar to the claims the institution settled in 2013 over involvement in rigging the Libor interest rates.

January 27, 2014

DECEASED:  Karl Slym, 51, Managing director of Tata Motors was found dead on the fourth floor of the Shangri-La hotel in Bangkok. Police said he "could" have committed suicide. He was staying on the 22nd floor with his wife, and was attending a board meeting in the Thai capital.

January 28, 2014

DECEASED:  Gabriel Magee, 39, a JP Morgan employee, died after reportedly "falling" from the roof of its European headquarters in London in the Canary Wharf area. Magee was vice president at JPMorgan Chase & Co's (JPM) London headquarters.

Gabriel Magee, a Vice President at JPMorgan in London, plunged to his death from the roof of the 33-story European headquarters of JPMorgan in Canary Wharf. Magee was involved in "Technical architecture oversight for planning, development, and operation of systems for fixed income securities and interest rate derivatives" based on his online Linkedin profile.

January 29, 2014

DECEASED: Mike Dueker, 50, who had worked for Russell Investment for five years, was found dead close to the Tacoma Narrows Bridge in Washington State. Dueker was reported missing on January 29, 2014. Police stated that he "could have" jumped over a fence and fallen 15 meters to his death, and are treating the case as a suicide.

February 3, 2014

DECEASED: Ryan Henry Crane, 37, was the Executive Director in JPMorgan's Global Equities Group. Of particular relevance is that Crane oversaw all of the trade platforms and had close working ties with the now deceased Gabriel Magee of JPMorgan's London desk. The ties between Mr. Crane and Mr. Magee are undeniable and outright troublesome. The cause of death has not yet been determined, pending the results of a toxicology report.

February 6, 2014

DECEASED: Richard Talley, 57, was the founder and CEO of American Title, a company he founded in 2001. Talley and his company were under investigation by state insurance regulators at the time of his death. He was found in the garage of his Colorado home by a family member who called authorities. Talley reportedly died from seven or eight "self-inflicted" wounds from a nail gun fired into his torso and head.
The totality of the list is truly astounding, and the underlying connection remains mysterious, and little explained.
What is really going on in the Wall Street culture? Almost everything is tolerated or quasi-legalizing in their world – until some inquiry or criminal investigation comes around. Then it, it may simply be time to cut their losses. The people at the top of this game care nothing about a few lives; they are toying with the finances of the entire world. Trillions and trillions of dollars – there is a huge conspiracy underlying all of this.
As SHTF previously reported, the financiers who still have a conscience are up late at night worrying about what is happening to the middle class:
They are the blunt words of Johann Rupert, a jewelry and fashion mogul from South Africa worth an estimated $7.5 billion. Bloomberg reported:

"We cannot have 0.1 percent of 0.1 percent taking all the spoils… It's unfair and it is not sustainable."

"How is society going to cope with structural unemployment and the envy, hatred and the social warfare?" he said. "We are destroying the middle classes at this stage and it will affect us. It's unfair. So that's what keeps me awake at night."
The tectonic movements that have been happening, and which are now coming to a head, will make 2008 look like a cake walk.
What do these deaths tell us about the time that we have left before the economy collapses in a huge way – which will be drawn out over long, grueling years of financial difficulty, unstable populations, flash events, panics, bank runs, wheelbarrow money, and plenty of control.
Read more:
Following the Bodies: "We Are at the Precipice of Something So Big, It Will Shake the Financial World"
Billionaire: "We Are Destroying the Middle Class. That's What Keeps Me Awake at Night."
Why Did The Treasury Department Just Purchase Thousands of Survival Kits For Bank Examiners?
The 'Die Off' Will Start Immediately After a Complete Collapse