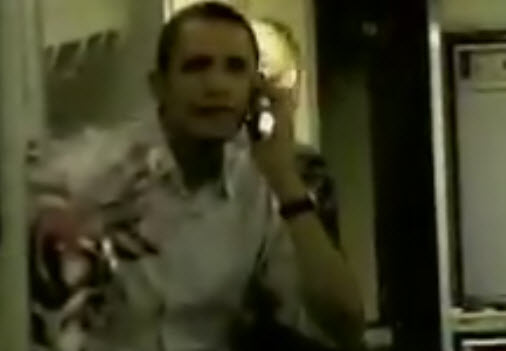 This article was written by Piper McGowan and originally published at The Daily Sheeple.
Editor's Comment: I don't think anyone expected that any major political candidate really lived up to their rhetoric and falsely-portrayed images, but at the height of the 2016 election, it seems that these people are being stripped bare for who they really are – a deplorable collection of narcissists, sexual predators and grown-up high schoolers.
Certainly, they aren't anything like the mainstream media has portrayed them to be, or anything like 'presidential.' Affairs and scandals are standard fare, but things are now going off the rails. Just during the past week or two, audio was leaked of Donald Trump making 'locker room' comments, while video shows Bill Clinton – then president – groping a stewardess. Now, video shows that while the 2008 campaign media were busy portraying Obama as a 'savior' and nearly-anointed leader, he was busy showing off his package to the press. What's next?
Video Surfaces of Obama Showing off His Erection to Giggling Female Reporters; Hypocrisy on Trump Much?
by Piper McGowan
First off, let me say that it's a pathetic day when I am reporting on this, but hey, it's the reality we live in. Our government and mainstream media are a bunch of little kids. This further proves it.
The media has not stopped buzzing about the fact that ten years ago, Trump made some piggish locker room comments that included the word "p*ssy".
While that speaks for itself on Trump (it's hard to believe people are really that surprised, it's Donald Trump we're talking about here after all), the entire event shows you how the media spins information to paint candidates in a positive or negative light for the American public based on establishment goals.
Want further proof?
This video of then-candidate Obama below is going viral on Twitter, with Tweet after ReTweet asking, "Where's the outrage MSM?"
This is pretty gross but here it is folks – 2008, Obama is campaigning, and reporters giggle like school girls and gawk at his erection. pic.twitter.com/7JXvo1kQIH

— Deplorable Mac ? (@TweetBrettMac) October 11, 2016
The video, shot by CNN in 2008 while Obama was on the campaign trail, speaks for itself.
You can hear the gaggle of female reporters giggling about it too. Now just consider for a moment what would happen if this was Donald Trump.
. . . . . . . . . . . .
This article was written by Piper McGowan and originally published at The Daily Sheeple.
Piper writes for The Daily Sheeple. There's a lot of B.S. out there. Someone has to write about it.