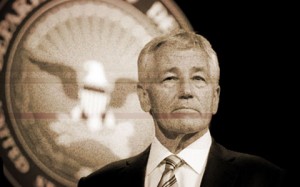 Editor's Note: Whether focused on America's status around the globe, U.S. sovereignty, the economics of warfare or the shadowy war against terrorism – it is clear that foreign policy leaders are destroying all of America's interests in its foolish and often contradictory engagements, most recently seen in its maneuvers to undermine ISIS while funding the Free Syrian Army, who composite and fuel ISIS. Whether you term it a 'new world order' or anything else, it is clear that any notions of common sense, freedom and security have all been sacrificed for some other hidden agenda.
This article was originally published by Steve Watson at PrisonPlanet.com.
Hagel Warned Of Rogue 'New World Order', Now He's Fired
Chuck Hagel has been fired by Obama from his position as Defense Secretary. Hagel, a former GOP Senator, was appointed by Obama in early 2013 and therefore was scheduled to serve for the entirety of Obama's second term.
Prior to his appointment, Hagel is said to have visited the White House in 2009, and personally warned Obama that he should look out for rogue elements within the Pentagon that were leading a 'new world order'.
This was not reported on some internet conspiracy forum, it was a leading report published shortly before Hagel's appointment, by Bob Woodward, an award winning journalist and associate editor with The Washington Post.
According to an account that Hagel gave, he told Obama: "We are at a time where there is a new world order."
"We don't control it. You must question everything, every assumption, everything they" — the military and diplomats — "tell you. Any assumption 10 years old is out of date. You need to question our role. You need to question the military. You need to question what are we using the military for." Hagel is said to have told the President.
The Post report also stated that Hagel warned Obama about becoming "bogged down" in the ongoing war in Afghanistan, saying it would define Obama's first term. Hagel reportedly later privately questioned the wisdom of sending additional troops to join the conflict.
"If Hagel is confirmed, as appears likely, he and the president will have a large task in navigating this new world order." The Post report concluded at the time.
It remains to be discovered as to whether or not Hagel attempted to oust the rogue elements within the military industrial complex. The last straw for Hagel, though, may have been comments he made last week during a sit down interview with Charlie Rose at the Pentagon.
During the exchange, Hagel expressed a belief that US military action against ISIS was "indirectly benefiting" the Syrian President Bashar Assad, comments that were sure to have been unwelcome by the powers that be, given its push for airstrikes against the Syrian government last year.
Hagel also said that "The world is damn dangerous," adding that the US military is unprepared.
Hagel criticized defense budget cuts and stated outright "We won't have the readiness. We won't have the capability. We won't have long-term investments that this institution requires to stay ahead of everybody else, as we have since World War II, with the technological edge, with the ability to continue to recruit and retain the best people."
Hagel was also critical of US foreign policy, noting that "policies are predicated on historical knowledge and cultural awareness and all that goes into that. Have we made mistakes over a series of many years? Yeah, I think we have. I think anybody would agree to that."
In short, Hagel is no longer in a job because he alluded to rogue globalist elements within the US military, criticized the long imperial march to war, and admitted to detrimental blowback in the 'war on terror'. Yeah, that'll do it.