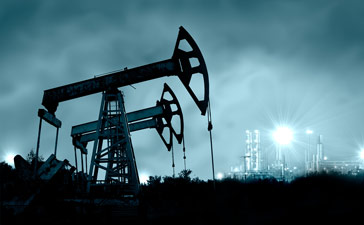 This article was written by Michael Snyder and originally published at his Economic Collapse blog.
Editor's Comment: As if there wasn't already enough bad news, there is a clear indication that things could quickly get much worse. The first couple rounds of falling oil prices have already leveled jobs in the United States, and threatened to bring Venezuela, Saudi Arabia and other oil-dependent states to their knees.
Now, another crash in oil prices could finish the job. It is just the sort of incendiary that madmen spreading fires could use to topple everything into ashes, and pick up the pieces for control. If these prices dip as low as they did before, and stay low for as long as they did, they could wipe out another half a million American jobs, and stagnate whatever recovery might have been in the works. Keep an eye on this, and hold on to what you've got.
The Price Of Oil Is Crashing Again, And That Is Very, Very Bad News For The U.S. Economy
by Michael Snyder
This wasn't supposed to happen.  The price of oil was supposed to start going back up, and this would have brought much needed relief to economically-depressed areas of North America that are heavily dependent on the energy industry.  Instead, the price of oil is crashing again, and that is really bad news for a U.S. economy that is already mired in the worst "recovery" since 1949.  On Monday, U.S. oil was down almost four percent, and for a brief time it actually fell below 40 dollars a barrel.  Overall, the price of oil has fallen a staggering 21 percent since June 8th.  In less than two months, the "oil rally" that so many were pinning their hopes on has been totally wiped out, and if the price of oil continues to stay this low it is going to have very seriously implications for our economy moving forward.
One of the big reasons why the price of oil has been declining is because the OPEC nations continue to pump oil at very high levels.  The following comes from CNBC…
Production in July by the Organization of the Petroleum Exporting Countries likely rose to its highest in recent history, a Reuters survey found on Friday, as Iraq pumped more and Nigeria squeezed out additional crude exports despite militant attacks on oil installations.

Top OPEC exporter Saudi Arabia also kept output close to a record high, the survey found, as it met seasonally higher domestic demand and focused on maintaining market share instead of trimming supply to boost prices.
These countries don't know if or when the price of oil will eventually rebound, but what they do know is that they desperately need cash in order to keep their sputtering economies going.  Many of these nations are already experiencing significant economic downturns, and substantially reducing oil revenues at this time would definitely not help things.
Here in North America, oil production costs tend to be higher, and so when the price of oil crashes we tend to see companies shut down rigs.  But when rigs get shut down, that means that good paying jobs are lost.
During the first four months of 2016, approximately 35,000 jobs were lost at Texas energy companies.  Globally, more than 290,000 energy jobs have been lost since the price of oil started falling back in 2014.
And even though there was hope that energy companies would add jobs as the price of oil started rebounding during the second quarter, it turned out that the job losses just kept on coming…
Energy companies continued to cut thousands of jobs during the second quarter, even though many chief executives are now voicing optimism that the oil market crash is ending and a rebound in drilling is afoot.

Although the heads of Halliburton Co. , Schlumberger Ltd. and other major firms forecast higher crude prices and a return to U.S. shale fields when discussing earnings this week, those companies and others disclosed another 15,000 industry layoffs.
Personally, I have quite a few members of my own extended family that live in areas that are heavily dependent on the energy industry, and three of them have lost their jobs so far this year.
And these are precisely the sort of good paying middle class jobs that we cannot afford to lose.  In order to having a thriving middle class, you need lots of middle class jobs.  Unfortunately, those kinds of jobs are going away, and the middle class in the United States is systematically dying.
If the price of oil keeps going lower, that will mean even more jobs losses for the energy industry, and that will be very bad news for the U.S. economy.
In addition, many of these energy companies are getting into very serious debt problems.  Delinquency rates on corporate debt are already the highest that they have been since the last recession as firms struggle to pay their bills.  Of course some of them have already gone belly up, and this has pushed default rates on corporate debt to the highest level since the last financial crisis.
At a price of 40 dollars a barrel, most oil companies in the United States are not profitable in the long-term.  The longer the price of oil stays down in this neighborhood, the more energy companies we will see go bankrupt.  At this point it is just a waiting game.
Also, it is important to keep in mind that Wall Street is very heavily exposed to the energy industry.  Just as subprime mortgages brought down quite a few financial institutions back in 2008, so this time around it is inevitable that the oil crash will claim a fair number of victims as well.
As the global economy has slowed down, the demand for oil has decreased.  And at this point, even the U.S. economy appears to be seriously slowing down.  U.S. GDP only grew at about a one percent rate for the first half of 2016, and the rate of homeownership in this country just hit the lowest level ever recorded.
In the mainstream financial media, there is a lot of hopeful talk about a potential turnaround for the energy industry, but most of that talk appears to be just wishful thinking.
To me, about the only thing that could push the price of oil back to where U.S. oil companies need it to be in the short-term would be a major war in the Middle East.  And of course that is definitely always a possibility considering who is running things in Washington.  But absent that, it is hard to see the price of oil getting back to 70 or 80 dollars a barrel any time soon.
So that means that we are likely to see more job losses, more debt delinquencies and debt defaults, and more financial institutions getting into trouble due to their reckless exposure to the energy industry.
---

Michael T. Snyder is a graduate of the University of Florida law school and he worked as an attorney in the heart of Washington D.C. for a number of years.
Today, Michael is best known for his work as the publisher of The Economic Collapse Blog and The American Dream. 
If you want to know what is coming and what you can do to prepare, read his latest book [amazon text=Get Prepared Now!: Why A Great Crisis Is Coming & How You Can Survive It&asin=150522599X].
This article was written by Michael Snyder and originally published at his Economic Collapse blog.