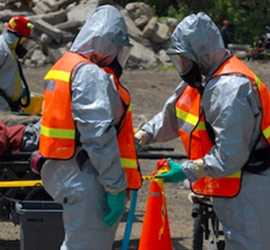 Is there than meets the eye to this big scare?
It is seems all-too timely that the fake 'dummy' bomb discovered shortly before a soccer match in Manchester took place in the lead up to a very controversial referendum which could result in Britain leaving the European Union.
As the BBC notes:
An "urgent" inquiry has been demanded after a dummy bomb used in a security exercise caused a Premier League match at Old Trafford to be postponed.

The game between Manchester United and Bournemouth was called off after the item was discovered close to kick-off… after the replica device was found in a toilet.

[…] Security Search Management & Solutions Ltd (SSMS) was the firm hired by Deacons Canines to test its sniffer dogs using fake bombs, the BBC understands.
What do you think?
Was this really just a bad mistake by a private firm doing counter-terrorism training?
Or was it something more like a hidden message to those that are publicly advocating for Brexit?
While countless celebrities and officials are trying to shame Britons out of supporting the Brexit, it seems at least possible that a false flag bombing could be in the works to dissuade this possibility, and instead give reason for renewed unity across Europe in fighting terrorism (and keeping the EU gang together).
The Brexit referendum will take place June 23.
Reaching? Or just carefully watching… you decide.