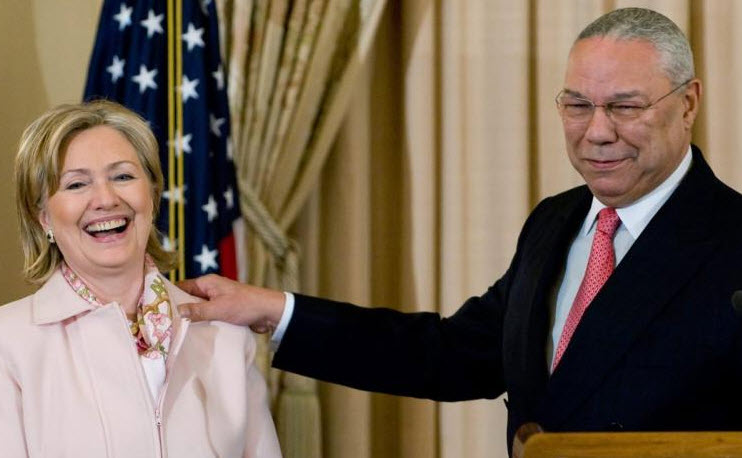 This article was written by Tyler Durden and originally published at Zero Hedge.
Editor's Comment: There is no longer any shadow of a doubt that Hillary was intentionally avoiding scrutiny and that, as these emails show, she deliberately sought out advice and a strategy to stay off the State Dept. servers and keep her info away from public scrutiny. Colin Powell, Secretary of State under George W. Bush, was happy to oblige and had an extensive protocol for remaining unaccountable.
And that is how Hillary will regard all of the laws of this country – they are for little people, for someone else, and her strategy will be to stay off the books as much as possible. The levels of denial, deceit, cover-up and destruction of evidence that have been uncovered or proven are astounding and, in a normal world, would make everyone very worried about having this person in a position of authority. It would be like hiring a multiple felon and bank robber to manage a team of bank tellers… absolutely asking to be robbed again.

And yet, here's how defensive Hillary has become about classified email questions, as evidenced by her response to a question at the forum last night:
Democrats Release Powell's Instructions To Clinton How To Bypass State Servers, While Warning Of Dangers
by Tyler Durden
Thanks to Democratic Rep. Elijah Cummings thoughtful decision to release an email exchange between former Secretaries of State Colin Powell and Hillary Clinton, we can now confirm that Hillary was well aware of the lack of security and the "real danger" before she made the decision to use a private email server.
In what we are sure was a selfless act of honesty by Rep. Elijah E. Cummings, the Ranking Member of the House Committee on Oversight and Government Reform publicly released an email exchange in which former Secretary of State Colin Powell advised then-Secretary of State Hillary Clinton on the use of personal email two days after she was sworn in as Secretary…
From: Colin Powell
To: Hillary Clinton hr15@att. blackberry. net
Subject: Re: Question

I didn't have a BlackBerry. What I did do was have a personal computer that was hooked up to a private phone line (sounds ancient.) So I could communicate with a wide range of friends directly without it going through the State Department servers. I even used it to do business with some foreign leaders and some of the senior folks in the Department on their personal email accounts. I did the same thing on the road in hotels. Now, the real issue had to do with PDAs, as we called them a few years ago before BlackBerry became a noun. And the issue was DS would not allow them into the secure spaces, especially up your way.

When I asked why not they gave me all kinds of nonsense about how they gave out signals and could be read by spies, etc. Same reason they tried to keep mobile phones out of the suite. I had numerous meetings with them. We even opened one up for them to try to explain to me why it was more dangerous than say, a remote control for one of the many tvs in the suite. Or something embedded in my shoe heel. They never satisfied me and NSA/CIA wouldn't back off. So, we just went about our business and stopped asking.

I had an ancient version of a PDA and used it. In general, the suite was so sealed that it is hard to get signals in or out wirelessly. However, there is a real danger. If it is public that you have a BlackBerry and it it government and you are using it, government or not, to do business, it may become an official record and subject to the law. Reading about the President's BB rules this morning, it sounds like it won't be as useful as it used to be. Be very careful. I got around it all by not saying much and not using systems that captured the data.

You will find DS driving you crazy if you let them. They had Maddy tied up in knots. I refused to let them live in my house or build a place on my property. They found an empty garage half a block away. On weekends, I drove my beloved cars around town without them following me. I promised I would have a phone and not be gone more than an hour or two at Tysons or the hardware store. They hated it and asked me to sigh a letter relieving them of responsibility if I got whacked while doing that. I gladly did. Spontaneity was my security. They wanted to have two to three guys follow me around the building all the time. I said if they were doing their job guarding the place, they didn't need to follow me.

I relented and let one guy follow me one full corridor behind just so they knew where I was if I was needed immediately. Their job is to keep you hermetically sealed up. Love, Colin

*  *  *

On Fri, Jan 23, 2009 at 7:37AM, > wrote:

Dear Colin, I hope to catch up soon w you, but I have one pressing question which only you can answer! What were the restrictions on your use of your blackberry? Did you use it in your personal office? I've been told that the DSS personnel knew you had one and used it but no one fesses up to knowing how you used it! President Obama has struck a blow for berry addicts like us. I just have to figure out how to bring along the State Dept. Any and all advice is welcome. All the best to you and Alma, Hillary

UNCLASSIFIED U.S. Department of State Case No. 0-2016-11097 Doc No. C06125520 Date: 09/06/2016

To: Colin Powell
Subject: Re: Question

Colin, I am finally out of the SCIF and want to thank you for all of the advice about berries, security and life on the 7th floor! I hope we'll have a chance to visit in person sometime soon. All the best, H
From the release of this exchange we know two things:
1) The Democratic establishment has no qualms throwing Colin Powell under any bus at all if it helps Hillary get out of this corner, and

2) we know Hillary was well aware of the "real danger" of her actions and specifically told to "be very careful" not to say anything about it.
Still what difference does it make?
As we previously noted, Colin Powell was greatly displeased by Hillary's attempts "to pin" the email scandal on him…
Powell told People Magazine that Clinton was using her private email long before their meeting.  "The truth is she was using it for a year before I sent her a memo telling her what I did [during my term as Secretary of State]," he said.
This article was written by Tyler Durden and originally published at Zero Hedge.