This article was written by Tyler Durden and originally published at Zero Hedge.
Editor's Comment: By now, everyone should know. Hillary is either too sick, or too evil to be trusted in another position of power, especially the highest office in the land. Clearly there is a cover-up (and much more) at work here.
Strangely, despite having very "low energy" support among the actual American population, Hillary's every flaw is covered up, blacked out or justified by the corporate media. There remains the clear suggestion that this is not an election, per se, at all, but something more like an arranged marriage between a tyrant and a population that has lost to the levers of control. Hillary isn't the only one who needs a doctor; the country is in desperate need of care, but the only provider in the area is under Obamacare.
'Coughing Clinton' Shrugs Off Health "Conspiracy Theories" As Questions Emerge On "Pollen" Explanation
by Tyler Durden
Hillary Clinton said this morning that she was not distracted by "conspiracy theories" about her ill health, and that attacks were not rooted in fact. However, the Clinton campaign's propaganda arm is in full swing as the mainstream media attempts to dismiss any health concerns by claiming that pollen counts were high where she spoke. The only problem with this is, in fact, pollen counts were low to moderate in Northeast Ohio (and what about the previous 10 coughing fits?)
As we detailed yesterday, Hillary suffered a coughing fit that lasted for over four minutes during her speech yesterday, prompting a fresh round of speculation about her ailing health.
And then, the presidential candidate then had yet another coughing fit while on her plane with journalists, which conveniently meant that she didn't have to answer any questions.
"Alt-Right fanatics and conspiracy theorists" immediately questioned her health – is she ok? And concerns over Hillary's "worst coughing fit ever" was raised by MSNBC.
But as Paul Josepth Watson reports, MSNBC regurgitated claims by Hillary's campaign aides that, "Allergens were high in Northeast Ohio on Monday," before asserting that there is "no evidence to indicate she is unwell."
The problem for that propadandist line is – It was a complete fabrication.
As numerous websites that track daily allergen levels confirmed, grass pollen was low, tree pollen was low and ragweed pollen was moderate.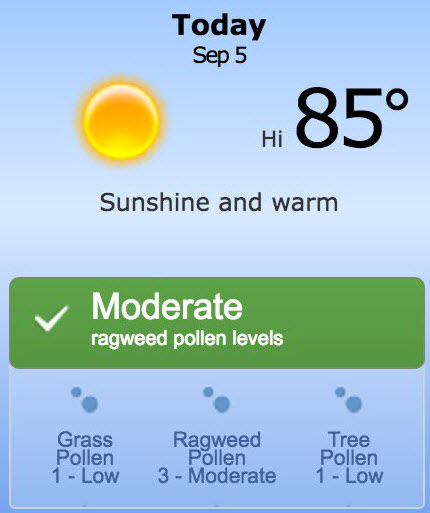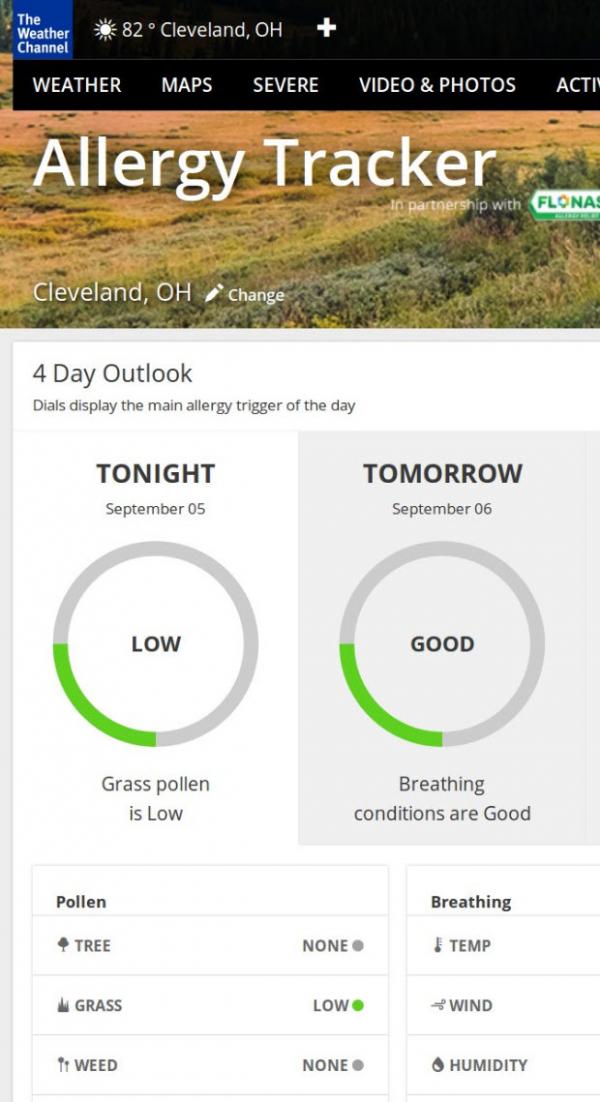 Allergens were not "high," as Hillary's campaign and MSNBC claimed.
Watson further notes that prevaricating over pollen counts was also a convenient way of avoiding the fact that Hillary has had the exact same coughing fits on innumerable other occasions over the past year.
This year alone Hillary has had numerous counghing fits, and despite what one physician described as an "outbreak of vituperation and anger" against those with opinions about Hillary Clinton's health, WND.com notes that more doctors are expressing concerns during the 2016 race to the White House.
"There is absolutely no credible evidence to backstop any of these claims," CNN claims… but as WND.com reports, many physicians, based on publicly available information have raised concerns. Among them are:
Dr. Jane Orient, M.D., executive director of the Association of American Physicians and Surgeons, said images of Clinton being helped up stairs and propped up, and videos showing odd, seizure-like head movements require an explanation to voters, she contends. The author of "Emerging Diseases: Protecting Your Family from Pandemics, Viral Threats, and Rogue Vaccines" noted the "vituperation and anger" that she's faced for raising questions. "I'm not making a diagnosis," she told WND on Monday. But "I can look at the video. You can look."She said for a medical professional to simply ignore the evidence would be "completely reckless." Meeting someone with these symptoms personally would require a "How are you?" she said. "These are not ridiculous questions."
Dr. Lee Hieb, author of "Surviving the Medical Meltdown: Your Guide to Living Through the Disaster of Obamacare," agreed. "They made a huge deal about [Sen. John] McCain because of his melanoma," she told WND. "Melanoma doesn't give you dementia!" She said the images and videos are evidence that should be reviewed and explained to voters, contending Clinton is "not being forthcoming.""If she doesn't want the American people informed … we know where she stands."Citing Clinton's previous concussion, Hieb said such injuries can cause long-term side effects, seizures, personality changes and cognitive deficits.
The Fox News medical "A-Team" of Dr. Marc Siegel and Dr. David Samadi had questions. "In 2008 … I looked over a thousand pages of John McCain's records because of a melanoma he had 10 years ago. What about Hillary? In 2009, a severe fall. She breaks her elbow. In 2011, she boards a plane, falls. In 2012, she has a severe concussion which Bill Clinton says took her six months to recover from," Siegel said. He continued: "Then she ends up with a blood clot in the brain and a lifetime of blood thinners. Just that point alone – if she's prone to falling, you can see from that picture up there that it looked like she can barely get upstairs without two people carrying her. Guess what if she falls and hits her head? She'll get a blood clot." Samadi added: "The picture going up the stairs speaks a million words. Is she fatigued? Is she dehydrated? One of the main reasons she fell in 2012 and had the concussion was severe dehydration. They're holding her and going up the stairs. So she may be really dehydrated, she may have arthritis, she may have back pain, she may have fallen again. We don't know."
Dr. Drew Pinsky's television show on the HLN cable network, "Dr. Drew on Call," was canceled after he raised questions about Clinton's health in an interview on KABC-AM in Los Angeles.
And another prominent doctor expressed concern. Bob Lahita, a professor of medicine at Rutgers University, told Fox Business, "The very fact that she's having these [blood] clots and she's had two bouts of thrombosis is disconcerting to say the least.
"You go back to the history of our presidents and we've had many presidents up until Lyndon Johnson who've concealed their health during their campaigns, and it had dire effects for our country, going from Kennedy to Roosevelt, to Woodrow Wilson whose wife ran the White House for some time – so we have issues here and I think both candidates should be very forthcoming and perhaps have an impartial panel of physicians review the data and make that kind of decision before Americans go to the polls," remarked Lahita.
Finally, there is The Huffington Post's take – which calls any health-related questions 'sexist'…
Gender bias "absolutely" plays a role in the conspiracy theories around Clinton's health, even if it's not the primary motivating factor, Fenster said.

"Every part of his critique of her has a gender component to it," he said. "I think that's true with the health conspiracies. It's very much mocking her as an 'old lady.'"
This article was written by Tyler Durden and originally published at Zero Hedge.