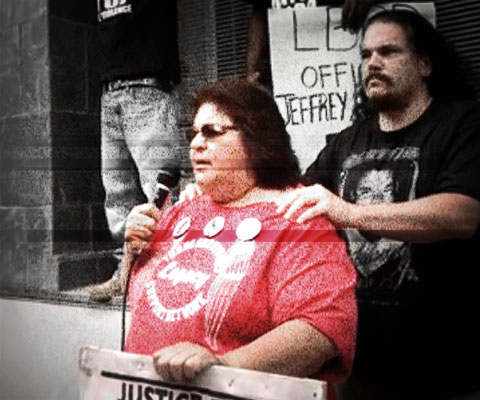 This article was written by PM Beers and originally published at AntiMedia.org.
Editor's Note: Assassinated president John F. Kennedy famously stated "Those who make peaceful revolution impossible will make violent revolution inevitable." His brother, Robert Kennedy, also slain, echoed with similar words during a decade of revolutionary fervor and upheaval.
Hopefully violence is not inevitable, but the powers that be – in Washington, on Wall Street, in positions of power across the globe – are trying to make it so, or so it would appear. While the media continues to make this an issue about race – with the mass killing in South Carolina and the banner #blacklivesmatter – it is worth remembering that of the 500 plus police killings tracked so far in 2015, half were white, and all races and demographics were represented. Perhaps if the real issue is addressed, violence can be avoid and a co-opted phony "revolution" (fueled by plenty of righteous anger, but misdirected) averted. #alllivesmatter
Mother of Man Slain by Police Said Calling For Peace Was a Mistake
by PM Beers
For three years, Genevieve Huizar has been peacefully protesting alongside many other families who have lost loved ones to police murder. She has seen no justice and no change. Her son, Manuel Diaz, was shot in the back of the head by Anaheim police officer Nick Bennallack on July 21, 2012.
Last Saturday, families of people murdered by police gathered at the Long Beach Police Department to speak out and march against police brutality. Genevieve Huizar, mother of Manuel Diaz, spoke at the rally.
"First of all, I want to give my condolences to every family member here and across America. I don't know if every one of you have [heard of] this but I want to say it just in case you don't. There is something on Facebook called Killed by Police. If you don't have this already on your Facebook, you just like the page Killed by Police. Every time there's a murder (by police) across America, it's gonna pop up. Well, let me tell you, they are popping up every single day. Every day across America people are being murdered by police.
My son, my only son, 25 years old for eight days, four o'clock in the afternoon on Anna Drive in Anaheim, he was talking to his friends at a truck or a car. Police pull up and they point at him. He had been in jail before so when they pointed at him he ran. He had his cell phone in his hand, a black one. We all have black cell phones. The cops said it was a gun. The first shot was to his lower back and as he was falling to his knees the second bullet was to the back of his head.
He wasn't married. He did not have any children. My son Manuel Angel Diaz, in Anaheim, if you look it up, there were ten days of uprising. At that time, I called for peace. I regret it. I regret calling for peace because maybe if there would have been more of an uprising there wouldn't have had to be Baltimore. There wouldn't have to be New York. There wouldn't have to be Atlanta, Georgia. There wouldn't have to be Long Beach. Too many murders, too many families suffering. Never forget, Never stop fighting. Even in the courts, don't stop fighting. I don't care what these lawyers say, keep the fight until the very end. You cannot give up. These lives mean so much. My son means so much and I will see him again. God says."
After three years of peaceful protests it is clear to Genevieve Huizar and many others that peaceful protests do not bring change. Nick Bennallack still walks free.
Activists in Orange County along with Genevieve are planning an event on July 18th, commemorating the three year anniversary since Manuel was murdered by Anaheim police. Follow @LAPeoplesMedia on Twitter or Los Angeles Peoples Media on Facebook for more details.