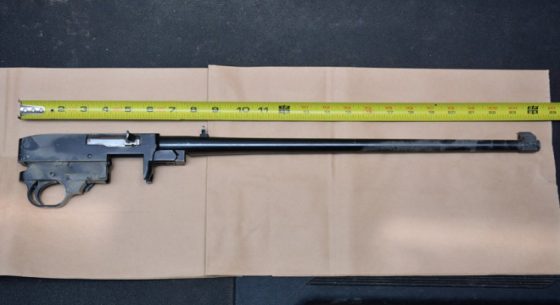 California woman Leticia Sept was taken into custody after officers on patrol encountered her near a recreational vehicle that was parked illegally and found her with the firearm.  The illegal gun was a stockless Ruger 10/22, and thanks to gun laws, she's in a lot of trouble with the government.
Police in Fresno arrested the woman Monday after they found her in possession of a .22LR rifle that came up a little short on their tape measure. Her trouble wasn't with the fact the rifle had no stock, although it didn't slip past the more "gun savvy" out there. California law requires rifles to be at least 26 inches long, and this particular rifle was only 24 inches in length. But the federal government has regulations on SBRs too.
The Bureau of Alcohol, Tobacco, Firearms, and Explosives considers "a weapon made from a rifle if such weapon as modified has an overall length of less than 26 inches or a barrel or barrels of less than 16 inches in length," to be regulated under the NFA.
According to Guns.com, an inmate search at the facility shows Sept is still in custody as of Tuesday morning. Her bail set at $12,000. Officers also recovered "composite knuckles and an illegal narcotic" from Sept, and she was booked into the Fresno County Jail on charges of misdemeanor possession of paraphernalia and two weapons violations– a misdemeanor for the knuckles and a felony charge on the SBR.
So much for "shall not be infringed."  Although it stands to reason that the cops were looking into the possession of the narcotics, the illegal weapon just compounded the issue with the state.