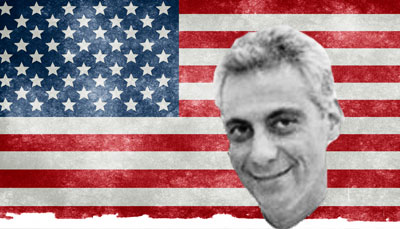 This article was written by Joshua Krause and originally published at the Daily Sheeple.
Editor's Note: It is sad, but also ironic that Chicago remains the unofficial "murder capital of the world," and yet there is nothing but calls for more gun control, and tougher punishment for crimes using guns.
Obviously, the problems are not being abated, and seem to be worsening. Violence has been cultured in inner-city Chicago, and gun control policies are making it worse. Is there any point at which a liberal will simply admit that gun control isn't working?
14 People Shot in 15 Hours: Rahm Emanuel Calls for More Gun Legislation
by Joshua Krause
The City of Chicago witnessed a shocking slew of shootings earlier this week, most of which were caused by two separate incidents. The first shooting occurred on Monday evening when a family was returning home from an outing, and were gunned down during a drive-by. A grandmother and her pregnant daughter were killed, and three others were injured. 5 hours later another shooter managed to kill 3 people and injure two more in the Fuller Park neighborhood. All told, 14 people were shot in a 15 hour period, and 6 were killed.
Following these violent incidents, Mayor Rahm Emanuel criticized the gangbanger culture in the city, and then repeated his previous calls to create tougher penalties for gun related crimes. "It's time that our criminal justice system and the laws as it relates to access to guns and the penalties for using them reflect the values of the people of the city of Chicago." Of course, Chicago already has some of the strictest gun laws in the country. And yet 2,300 people have been shot in the city this year, which is a 21% increase from last year. These recent incidents follow the shootings of 50 additional people over the past two weekends.
Surely there is no correlation between the two. More gun control is exactly what Chicago needs, and Rahm "Don't Let a Crisis Go to Waste" Emanuel is just the man who can deliver.
This article was written by Joshua Krause and originally published at the Daily Sheeple.
Read more:
An 11 Year-Old Demonstrates Gun Control: "Not Only Good Judgment But Also Good Marksmanship, Striking Only the Intended and Lawful Target"
It IS Happening Here: "Permanent Gun Confiscation" Ordered After Veteran Sought 'Voluntary' Treatment for Insomnia
While Gun Permits Increase, Murder Rate Drops: "Refutes Argument That More Guns Lead to More Violence"
"$38 Billion Reasons" 2nd Amendment is Crumbling: Bloomberg Targets 12 More States with Gun Control