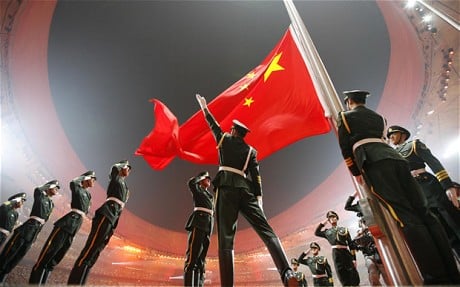 This article was written by Paul Joseph Watson and first appeared at PrisonPlanet.com.
Editor's Note: Behind the saber rattling here, is the very real importance of the acceptance of China as a major economic player who must be recognized officially and given credibility along with the American, Anglo, European and Japanese partners to avoid an alignment with Russia, and the BRICS nations that would undermine the Western world. China basically has two dance partners, and sees the promise of a better global hand regardless of how Ukraine plays out or Cold War tensions resurface. Hence, China's yuan will be made part of the IMF global basket of currencies, despite American annoyance over 'currency manipulation' and the launch of China's Asian Infrastructure Investment Bank (AIIB).
Here billionaire George Soros – who has played instigators and puppeteer to color revolutions dating to the decline and fall of the Soviet Union to the modern day Arab Spring and beyond – makes the implicit threat that acquiescence to China is now mandatory for global players, lest the bankers find reason to show WW3 in the door. The danger for world war essentially lies in the failure of currency battles and economic warfare being played out on a massive scale. Soros warns: "There is a real danger that China will align itself with Russia politically and militarily, and then the threat of third world war becomes real."
George Soros: "We are on the Threshold of a Third World War"
By Paul Joseph Watson
Billionaire investor George Soros told the World Bank this week that the planet is on the verge of a third world war that could arise out of an economic collapse in China.
"If there is conflict between China and a military ally of the United States, like Japan, then it is not an exaggeration to say that we are on the threshold of a third world war," Soros said during a Bretton Woods conference.
The billionaire warned that China's difficulty in transitioning from an export economy to a domestic demand-led system could force Beijing to whip up a conflict with an external enemy in a bid to keep the country from collapsing.
Soros said the only solution to the prospect was to allow China to join the IMF's basket of global currencies so that it could compete with the dollar.
Without this measure, Soros warned that, "there is a real danger that China will align itself with Russia politically and militarily, and then the threat of third world war becomes real, so it is worth trying."
Soros' comments came in the same week that CNN revealed how China's Navy has repeatedly issued warnings to U.S. surveillance planes flying over the South China Sea. Beijing is attempting to increase its influence by building a series of man made islands in the region.
A report out of Russian state media outlet Sputnik News also speculates that the presence of American ships in the South China Sea could lead to a war between the two global superpowers.
In a People's Daily editorial last September, Chinese PLA Professor Han Xudong warned that Beijing should prepare itself for a third world war which could arise out of the conflict between the United States and Russia over Ukraine.
"As the Ukrainian crisis deepens, international observers have become more and more concerned about a direct military clash between the US and Russia. Once an armed rivalry erupts, it is likely to extend to the globe. And it is not impossible that a world war could break out," wrote Xudong.
China recently increased its military budget by 10% for 2015, making it the world's second-largest military spender.
Fearing global unrest and the possibility of another major conflict, many members of the elite have been buying remote property and land in places like New Zealand, according to reports that emerged out of January's Davos Economic Forum.