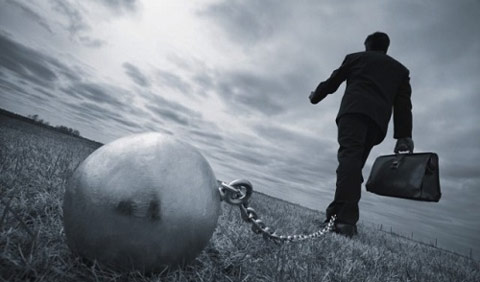 Bankruptcies are mounting in some of the biggest firms, even as the appearance of normalcy remains. But cash injections will likely keep the largest corporate-corpses going on and on.
How much trouble does this signal for an already troubling economy?
Wolf Street reported on how the oil bust is surfacing in the form of bankruptcies – along with a string of major bankruptcies in other sectors including casinos, securities, electronics (Radio Shack, the once huge chain) and at least one health care provider in the top 15 pending bankruptcies for the year:
[I]t's not just in Houston or in the oil patch. It's in retail, healthcare, mining, finance…. Bankruptcies are suddenly booming, after years of drought.

In the first quarter, 26 publicly traded corporations filed for bankruptcy, up from 11 at the same time last year, Reuters reported. Six of these companies listed assets of over $1 billion, the most since Financial-Crisis year 2009. In total, they listed $34 billion in assets, the second highest for a first quarter since before the financial crisis, behind only the record $102 billion in 2009.

The largest bankruptcy was the casino operating company, Caesars Entertainment, which has been unprofitable for five years. It's among the zombies of Corporate America, kept moving with new money from investors that had been driven to near insanity by the Fed's six-plus years of interest rate repression.
And that's not all.
Walmart, the retail mega-giant among giants, is drawing suspicion after five of its stores are mysteriously closing for at least six months – and laying off thousands of workers – on the pretense of plumbing repairs.
Those watching it think something more disruptive is at work – troubling as the low wage-paying store is the biggest private employer in the nation, and a major employment force in many communities. At least one store – in Midland, Texas – is at the source of the oil business, and could be catching contagion from turbulent prices.
Something large is lurking under the surface, and by all appearances to patch things up and keep the problems swept under the rug, it could be bad news.
The inherent nature of the de facto ponzi scheme of easy Fed money – and its potentially devastating effects on low-level investors is apparent:
None of them has shown up in bankruptcy statistics yet. They're part of the "activity under water," as Garcia put it.

But these Colt Defense and Walter Energy notes are part of the "distressed bonds" whose values have collapsed and whose yields have spiked in a sign that investors consider them likely to default. These distressed bonds, according to Bank of America Merrill Lynch index data, have more than doubled year over year to $121 billion.

The actual default rate, which lags behind the rise in distressed debt levels, is beginning to tick up. Yet it's still relatively low thanks to the Fed's ongoing easy-money policies where new money constantly comes forward to bail out old money.

But once push comes to shove, equity owners get wiped out. Creditors at the lower end of the hierarchy lose much or all of their capital. Senior creditors end up with much of the assets. And the company emerges with a much smaller debt burden.
Will it all just be recycled through the manipulated markets, or will the music stop and leave most holding the bag, while the usual suspects walk off scene for a drink with their friends in government and power?