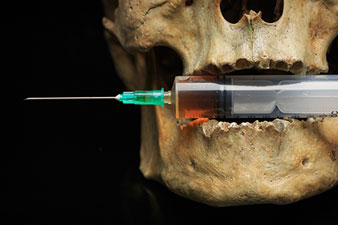 This article was written by Tyler Durden and originally published at Zero Hedge.
Editor's Comment: The zero percent interest problem is continuing to wreck the economy. It has removed the incentive for investment and the growth of new businesses, and has instead rewarded investment into the most bloated and inefficient mechanisms of the state.
The private sector is being forced to invest in government largess at the expense of people who were once their consumer and production base – but are now reduced even further to wards of the state.
$356 Billion Fund Manager: "Now Is The Most Treacherous Time Ever. I've Never Seen This In My Career"
by Tyler Durden
Last week we reported that Tad Rivelle, fund manager at the $195 billion TCW Group, uttered a harsh warning, telling readers of his newsletter that "the time has come to leave the dance floor," providing numerous examples and anecdotes as to why that is the case.
Today it was the turn of Joe Baratta, the top dealmaker at Steve Schwarzmann's $356 billion Blackstone Group, to follow up with a comparable warning.
Speaking at the WSJ Pro Private Equity Analyst Conference in New York, Baratta said that "for any professional investor, this is the most difficult period we've ever experienced", adding that "You have historically high multiples of cash flows, low yields. I've never seen it in my career. It's the most treacherous moment."
Unlike strategic buyers who have used their inflated stocks as the acquisition currency of choice to engage in what until recently was a record M&A scramble, PE firms have been largely left out, as they have to invest their own equity which has not levitated at the same rate as the overall market, and are forced to plug the purchase gap with ever more greater amounts of debt. As Bloomberg notes, "the same lofty valuations that created ideal conditions to sell holdings and pocket profits have made it exceedingly difficult to deploy money into new deals at attractive entry prices."
Just like in the case of the global housing bubble, now openly blamed on central bank policies as UBS did overnight, several executives, including Blackstone Chief Executive Officer Steve Schwarzman, have pinned those unprecedented conditions squarely on the Federal Reserve's near-zero interest rate policies."
As a result of the prevailing asset bubble, Baratta said that Blackstone isn't finding value in large leveraged buyouts of publicly traded companies. Instead, the New York-based asset manager is targeting smaller companies with low leverage, he said.
Still, when not buying Blackstone is mostly selling. In a separate interview with Bloomberg TV, Blackstone COO Tony James said that the firm is still selling more assets than it's buying,
"We're net sellers on most things right now — prices are high," James said in a Bloomberg Television interview Tuesday. "Interest rates are so low and there's so much capital sloshing around the world." So much capital in fact, that Blackstone had no problem gathering $18 billion for its latest private equity fund last year. The firm also has an energy private equity vehicle, which finished raising $4.5 billion last year.
This article was written by Tyler Durden and originally published at Zero Hedge.