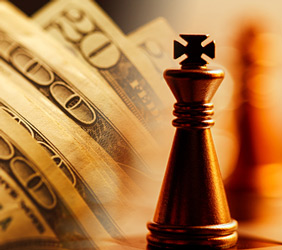 It seems the end really is nigh for the U.S. dollar.
And the mudfight for global dominance and currency war couldn't be more ugly or dramatic.
The Saudis are now openly threatening to take down the U.S. economy in the ongoing fallout over collapsing oil prices and tense geopolitical events involving the 9/11 cover-up. The New York Times reports:
Saudi Arabia has told the Obama administration and members of Congress that it will sell off hundreds of billions of dollars' worth of American assets held by the kingdom if Congress passes a bill that would allow the Saudi government to be held responsible in American courts for any role in the Sept. 11, 2001, attacks.
China has been working for years to establish global currency status, and will strengthen the yuan by backing it with gold in moves clearly designed to cripple the role of the dollar. Zero Hedge reports:
China's shift to an official local-currency-based gold fixing is "the culmination of a two-year plan to move away from a US-centric monetary system," according to Bocom strategist Hao Hong. In an insightfully honest Bloomberg TV interview, Hong admits that "by trading physical gold in renminbi, China is slowly chipping away at the dominance of US dollars."
Putin also waits in the shadows, making similar moves and creating alliances to out-balance the United States with a growing Asian economy on the global stage.
Luke Rudkowski of WeAreChange asks "Is This The End of the U.S. Dollar?" in the video below.
He writes:
In this video Luke Rudkowski reports on the breaking news of both China and Saudi Arabia making geopolitical moves that could cause a U.S economic collapse and obliteration of the U.S hegemony petrodollar. We go over China's new gold backed yuan that cannot be traded in U.S dollars and rising tension with Saudi Arabia threatening economic blackmail if their role in 911 is exposed.
Visit WeAreChange.org where this video report was first published.
The Federal Reserve, Henry Kissinger, the Rockefellers and their allies created the petrodollar and insisted upon the world using the U.S. dollar to buy oil, placing debt in American currency and entire countries under the yoke of the West.
But that paradigm has been crumbling as world order shifts away from U.S. hegemony.
It is a matter of when – not if – these events will change the U.S. financial landscape forever.
As SHTF has warned, major events are taking place, and no one can say if stability will be here tomorrow.
Stay vigilant, and prepare yourself and your family as best as you can.
Read more:
Pay Attention To The Economy Right Now, Because A Disturbing Series Of Events Seems To Be In Motion
Here's How We Got Here: A Short Primer On The History Of The Petrodollar
Shock Report: China Dumps Half a Trillion Dollars: "Something Is Very, Very Wrong"
Dollar Moves Shake the World: "Federal Reserve Could Start a Currency War"