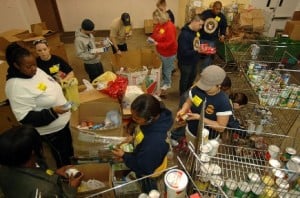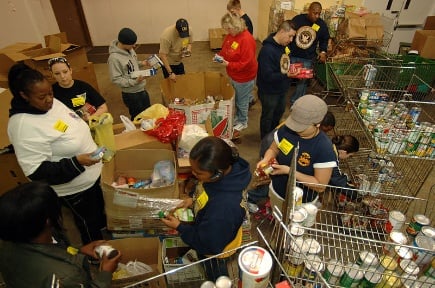 Why are hungry people lining up for handouts when the economy is – at least according to the mainstream media – improving at a steady pace?
Officially, experts are baffled at why a rebounding economy and a drop in the unemployment rate has not slowed demand for food assistance.
Closer to reality, those involved in administering aid seem to understand that the jobs out there are part time or low paying, and many struggling families just aren't making it under the Obama "recovery."
During President Obama's two terms, enrollment in SNAP, better known just as food stamps, rose to a record 46 million Americans receiving government assistance just to eat. Between 2008-2009, when the economic collapse hit, and 2013, the number of households on the Supplemental Nutritional Assistance Program (SNAP) swelled dramatically from 15 million households to 23 million households.
Food banks and volunteer organizations have traditionally worked, often overtime, to fill the gap between government assistance and the real world demand for food by those in need.
Today in 2015, these organizations are taken aback at why better times is NOT reducing demand for food aid – as it reliably has in the past.
The Associated Press interviewed many of these food bank organizations:
"The economy is really not getting better for low-income people," Rice said.

[…]

Food banks across the country are seeing a rising demand for free groceries despite the growing economy, leading some charities to reduce the amount of food they offer each family.

[…]

"People who have low-wage jobs, who aren't receiving regular raises, are finding those earnings stretched thin," Ziliak said.

The drop in food stamp rolls by nearly 2.5 million people from recession levels could be contributing to the food bank demand, he said, because people who no longer qualify for the government aid may still not earn enough to pay their bills.

[…]

Lisa Hamler-Fugitt, executive director of the Ohio Association of Food Banks, who has been working in food charities since the 1980s, said that when earlier economic downturns ended, food demand declined, but not this time.
Last year, Real Clear Markets addressed this conundrum, too, drawing from statistics to show how different the world of government dependence has become.
From 1969 until 2003, SNAP has been very responsive to changes in the unemployment rate with the number of recipients rising as unemployment rises and declining as unemployment declines.

But that seems to have changed. As unemployment declined between 2003 and 2007, the number of SNAP recipients marched steadily higher. Then, as the Great Recession hit, the SNAP caseload went even higher. The recovery after the 2001 recession did little to interrupt SNAP growth and now-as the economy has strengthened with unemployment declining and jobs growing (although slowly)-the number of SNAP recipients has barely come off its all-time peak of 47.8 million recipients hit in December 2012. Since then, the number of SNAP recipients has only declined by 2.7% — and oddly ticked up in the months of April and June 2014.
Again, this differs drastically from decades past, and shows a vast change in the number of vulnerable population groups.
Adjusting for population, in the four years following the 1981-1982 recession, there was a 12.5 percent decline in SNAP recipients. In the four years following the 2007-2009 recession, SNAP recipients increased by 15.6 percent. If this recent recovery had behaved like that of the 1980s, by 2013 only 11.5 percent of the population would have been receiving SNAP benefits: 36 million individuals as opposed to 47.6 million. That's a big difference.
A silent economic war has taken place under globalization during the Clinton, Bush and Obama years, where jobs have been fast tracked overseas, and new immigrant worker groups have been ushered in to take low wage jobs here in America, and in other developed countries.
As a result, more people from all groups are finding themselves increasingly desperate, and increasingly trapped under government assistance.
While some may enjoy the "free money" in the short run, many studies have found that over time, people tend to feel stuck in their positions and unable to find good enough opportunities to leave food stamps, welfare or other programs behind.
And the clichés don't necessarily apply either, since more and more people are working, but working at low wage jobs where they still require assistance. Wal-mart has been criticized for epitomizing this unfortunate trend: its multi-billion dollar business profits handsomely from food stamps spent on groceries (it joined megabanks in lobbying Congress to avoid cuts to SNAP)… yet many of its workers receive food stamps, leading many to see it as a corporate welfare queen of the highest magnitude, while taxpayers supplement the income of its struggling workforce. Or maybe that's just a byproduct of the nation we've become.
Maybe, just maybe, that's even how the collectivist system wants it to be.