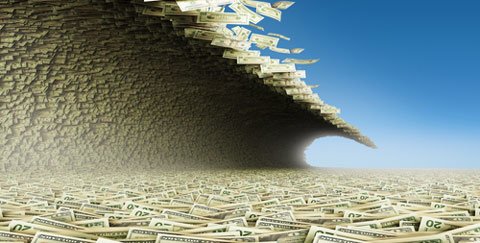 This article was written by Joshua Krause and originally published at The Daily Sheeple.
Editor's Comment: Few things are more reassuring than certainty. And one certainty you can bet on is that this house of cards won't last. How much farther can things be stretched thin? How much more can the world take? The looming implosion of the global economy is a question of when, not if.
There is a great deal of anxiety about when and how things will go down, and how the world will react. But no one can really doubt whether or not the system is sound… in fact, it is entirely certain that it isn't. Too many have taken on way more than they can handle, and the future looks simply disastrous. Beware and be forewarned.
It Looks Like the Global Debt Bomb Is Ready to Blow
by Joshua Krause
In recent years we've seen global debts soar to heights never before seen in human history. Before the financial crisis of 2007 and 2008, public and private debts were already out of control, but when the governments of the world tried to keep the global economy together with all their might, they did so by going into debt, to the tune of over $200 trillion. And that's just what the numbers looked like the last time anyone checked back in 2014. Who knows how much debt the world is in now.
And that $200 trillion, by the way, amounts to around 300% of the world's GDP, and it's still growing. Obviously this isn't sustainable. If you had a credit card debt worth three times as much as your yearly salary, and it continued to grow year after year, you'd be bankrupt in no time.
At some point, these debts are going implode the global economy. It's a certainty. The only question that remains is when will this happen?
One of the signs that suggests this event is fast approaching, can be found in the way that governments are issuing their bonds, which are essentially debt contracts that can be bought by investors. Traditionally, a government or institution will sell bonds to an investor, with the promise that they will pay them a certain interest rate. After 10 or 20 years, the investor will get all of their money back in addition to the interest rate they've been accumulating. It's basically a loan given to governments by investors.
But now governments are starting to issue bonds with negative interest rates. Imagine if a bank gave you a loan, but instead of having to pay an interest rate, the bank paid you. So after ten years a $100,000 loan may only cost you $99,000. Except in this case, you the bond buyer, are the bank.
Make sense? Of course not. You'd have to be crazy to make that deal. But that hasn't stopped these negative interest yield bonds from becoming obscenely popular over the past couple of years.
Now it's $13 trillion.

That's the total amount of government bonds in the world that have negative yields, according to calculations published last week by Bank of America Merrill Lynch. 

Given that there were almost zero negative-yielding bonds just two years ago, the rise to $13 trillion is incredible.

In February 2015, the total amount of negative-yielding debt in the world was 'only' $3.6 trillion.

A year later in February 2016 it had nearly doubled to $7 trillion.

Now, just five months later, it has nearly doubled again to $13 trillion, up from $11.7 trillion just over two weeks ago.

Think about that: the total sum of negative-yielding debt in the world has increased in the last sixteen days alone by an amount that's larger than the entire GDP of Russia.
Think about the implications of this. There are investors out there who are actually buying bonds that are guaranteed to lose money if they sit on them. They are basically donating money to governments, so they can continue to operate. Who in the hell would ever make that deal?
The truth is that for some investors, buying negative yield bonds makes sense, albeit for horrible reasons that do not bode well for the future of the global economy.
Joshua Krause is a writer for The Daily Sheeple, where this report was first published.