In the short term, the markets are a voting machine driven by sentiment; in the long term, the markets are a weighing machine based on true intrinsic value. Benjamin Graham and Warren Buffett were 100% right about this, and they've made millions based on this simple principle.
How can we apply this to today's financial markets? The idea is to let shifting market sentiment be your friend not by following it but by applying contrarian concepts. While so many retail traders are piling into cash out of fears of geopolitical events, successful investors are adding shares of businesses with strong fundamentals.
Ray Dalio once said that cash is trash, and he wasn't being facetious. Loading up on cash now means holding a rapidly deteriorating asset. Meanwhile, precious metals and the companies that mine them will benefit from inflation's devastating impact on the dollar.
While large-cap stocks are declining based on the prevailing sentiment of fear and alarm, gold is specifically poised to gain, just as it has historically done in situations like this: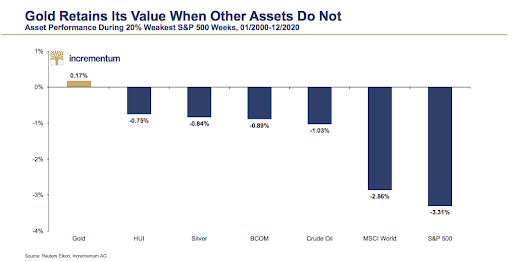 Courtesy: Incrementum AG
It's a win-win scenario for gold holders and mining businesses with mineral-rich assets. If there were ever a time to use market sentiment to your advantage, this is it.
In order to monetize this concept, it's best to maintain both gold bullion and shares of a premier exploration business like Goldplay Mining (TSX-V: AUC, US-OTCQB: AUCCF) in your portfolio.
Goldplay Mining is a perfect fit for this strategy since it's an up-and-coming junior miner that holds a robust portfolio of assets in Canada, with a particular focus on gold and copper. The company's flagship asset is the Big Frank Property, which is vast and spans 9,470.8 hectares in British Columbia, Canada.
This miner represents an early-entry opportunity for investors that's still intact because the company has been trading for less than a year. With $2.5M in cash and a market cap of just $7M, there's plenty of upside potential with Goldplay Mining – a perfect setup for today's nimble investors.