There's been lots of talk about the "gold bubble," especially from mainstream talking heads and analysts who prefer paper over real money. In January 2010, financier George Soros was quoted as saying "the ultimate asset bubble is gold," and this really got the financial news wires going.
We agree, gold is the ultimate asset bubble. However, most people totally misunderstood what Soros was saying. Our view is that George Soros was not suggesting that gold is currently an asset bubble, but that it will eventually become one.
Take a look at this chart from Daily Wealth and a brief explanation from Brian Hunt: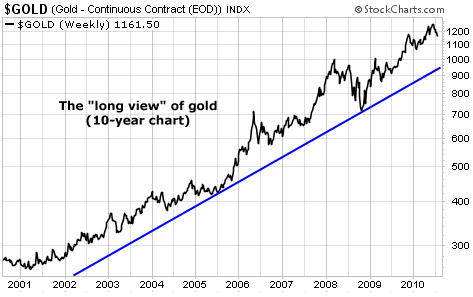 Remember, gold is one of the world's most volatile assets. The metal cannot be valued like a piece of real estate (using rental yields) or a share of stock (using book value). It can trade on all kinds of wild emotions. Thus, huge gold price swings have proven to be the norm… not the exception.

Given gold's volatile nature and the recent price weakness, we again urge folks to take "long view" (aka the "rich man's view") of gold… and note that gold could fall all the way down to $900 per ounce and still remain in the confines of its bull market. It would also be a wonderful chance to buy more.
We've seen gold decline roughly $100 over the last 30 days, and we are hearing again how the air has been let out of the gold bubble.
But has gold achieved bubble status yet?
Our opinion is that gold is nowhere close. We haven't even achieved the inflation adjusted highs of the 1980's gold bubble as of yet, which would put gold somewhere in the area of $2300.
Most of our readers would agree that we still have quite a bit of time before this economic crisis turns into a recovery. As we've pointed out, dysfunctional states have yet to go to the federal government for bailouts, and the federal government itself has done absolutely nothing to curb spending or resolve fundamental issues facing our economy.
If you consider that unemployment will likely continue, resulting in even more foreclosures and less consumer spending, we can see that the negative feedback loop is far from being closed.
The problems with the economy and financial well being of the United States will lead to even more volatility in markets and society going forward.
The populace is already losing confidence in the government sector's ability to mitigate the crisis, as demonstrated by Congress' recent approval ratings of under 15%, as well as those of the President, which have declined to around 45%.
We've noted before that Gold is often considered to be an inflation hedge. But if you look at the precious metal historically, it's not inflation (or deflation) that drives gold up, but rather, a loss in confidence. When the private sector realizes that government is not only unable to fix our problems, but complicit in making them worse, that's when gold really shines.
When the financial, economic, political, and monetary outlook is darkest, that's when we'll see the next great gold bubble come to fruition.
So, George Soros will be proven right. As other assets around the world crash – things like real estate, stocks, paper monetary systems and living standards – we'll see capital flee to the safety of the only wealth preservation monetary asset that has survived the test of time. If you don't believe, just ask the Greeks why gold was selling at $1700 an ounce only a few months ago.
It will be an extremely volatile ride going forward, perhaps to the point where you'll hate your gold so much you'll want to spit on it. But don't sell unless you're sure that global crisis has turned to recovery and growth.
Gold will eventually become the ultimate bubble – you can bet on it!