Via Zero Hedge:
Over the past hour Zero Hedge has been inundated with reader comments notifying us that Ampex has, validating the earlier post speculating about a possible silver shortage at the metals distributor, launched a "reverse ïnquiry" in which it will pay "you $3.00 over the current spot price of Silver for your Silver American Eagles. ANY year, ANY quantity!" and "We will pay you $38.00 over the current spot price of Gold for your Gold American Eagles. ANY year, ANY quantity!" So aside from this first public confirmation that one of the biggest wholesale retailers of precious metals is now inventoryless [sic], we can certainly see why Asia has decided to take silver down in the afterhours electronic session.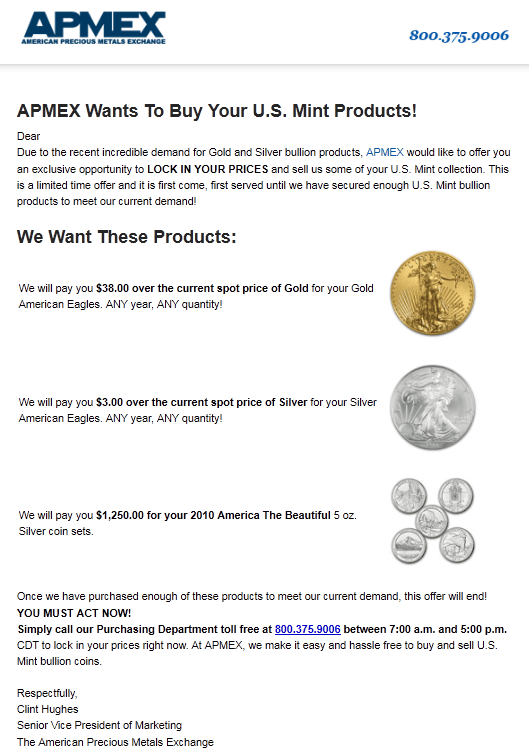 Editor's Note: As gold and silver reach historic highs, physical seems to be all the rage these days. If gold was simply an inflation hedge, buyers would be perfectly happy with investing in gold and silver ETF's and other paper assets. Numerous reports over the last several months have alluded to a metals shortage, and the fact that one of the largest online gold/silver dealers is now willing to pay 5% over the going rate all but confirms that it is becoming increasingly difficult to acquire physical precious metals assets as more investors begin to request physical delivery.
We caution readers that the current market environment is extremely volatile, so significant price swings could potentially occur in either direction. It is our view that recent 'parabolic' moves, while potentially signaling an eventual correction, do not change the long term trend for precious metals. Individual Americans, Europeans, and Asians are now beginning to enter the market to protect against geo-political uncertainty, as well as a perceived inability of world governments to manage the economic crisis. Gold and Silver are becoming the safe haven assets of last resort as confidence in paper currencies and politicians dwindles.
We expect to see a continued push higher over coming months and years to new inflation adjusted highs of Gold $2200 and Silver $120, and well beyond these valuations.