After watching the foreign currency exchanges for the last couple of months one would think that whatever problems the dollar had in 2008 and 2009 are long gone. With the Euro predicted to collapse to near parity with the US dollar, and the British Pound slated to be one of the next to go, mainstream analysts the world over are hinting that US Treasury bonds and dollar denominated assets are the next bull market, and the safest place to be if the global stock markets were to crash again.
In his latest One Handed Economist, Howard Katz puts forth an analogy that should clear this up for those who may be a bit confused about how to safely secure their assets and preserve wealth:
Gold is a jumbo jet cruising along at 30,000 feet. The national currencies (dollar, euro, yen, pound, etc.) have bailed out and are parachuting far below. Are the national currencies stable because they are not sinking against each other? Not a chance. They are all sinking against gold and other real goods. The amount of food, clothing and shelter they buy in their home countries keeps going down. So for the time being it will be wise to ignore the various comparisons of paper currencies against each other. They are merely an illusion to convince you that things are normal, there is nothing to be worried about and you are not getting poorer.
Measuring economic recovery in terms of the dollar and US stock markets is a dangerous game to play with your wealth.
As the EU prints billions upon billions to bail out Greece (et. al.) by paying off their debtors (big banks), the Euro will continue to depreciate. But the question that you must ask is: what will the Euro depreciate against?
If one compares the Euro to the dollar for the last 60 days, it looks like the dollar would have been a great investment to hold.
But if we look at the Euro and the Dollar compared to an ounce of gold, we see a whole different story: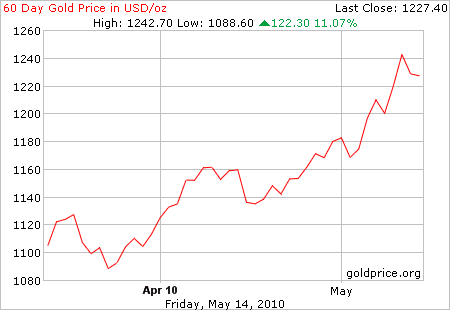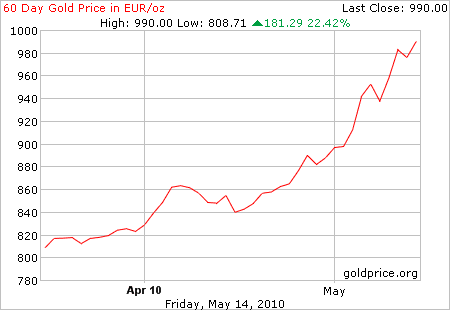 Both of these currencies have lost ground to gold in terms of purchasing power in the last 60 days. And the 10-year charts are not much different, with gold appreciating significantly against not only the Euro and US Dollar, but every other national currency in the world.
Thus, it is important to keep currency fluctuations in perspective, with the focus on buying power against real, tangible assets, not what one piece of paper against another piece of paper is worth.