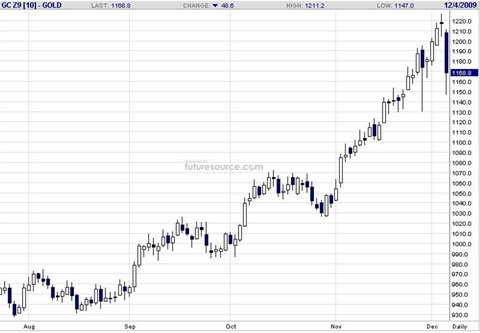 Well people, it was a bad day on Friday. Barchart reported that the Dec. gold contract went from 1227 at its Thursday high to 1147 at its Friday low – an eighty point difference in a single day.
And yet there be rumors floating through the dark alleys of the Comex that a certain advisory letter sent out a special bulletin interday on Dec. 2, with Dec. gold at 1208,advising its clients to sell their gold stocks.
Here at the One-handed Economist we can neither confirm nor deny those rumors. It is our policy to restrict our public articles to those of an educational purpose. To get the really good stuff, the exact timing on specific stocks and commodities, you must cross our palm with silver. Alternatively, you may cross it with gold. And as a special favor (because I am in a good mood this week), I will allow you to cross it with paper money.
I pray thee, do not regard this as a great burden. In the larger scheme of things, it is a flea bite. Let us keep things in context. The year began with our Model Conservative Portfolio at $139,955 (on Jan. 2, 2009). Here in December it closed this past week at $186,592. That is a profit of 33%, with the year not yet finished. In absolute amount, it is a profit of $46,639. And for the knowledge of how to make this profit, you paid only $300.
Hmmm, perhaps I should convert the One-handed Economist to a specialty letter and charge $10,000 per year. No, no, that would not be right. One should have compassion for the poor. And I do. That is, I have compassion for those poor who want to get rich and are struggling mightily toward that goal. Because of this I am going to tell you the secret to success in the financial markets.
THE SECRET TO SUCCESS IN THE FINANCIAL MARKETS IS TO KNOW THE TRUTH.
Truth is the most valuable commodity in the universe, even more valuable than gold. Just as we had a short squeeze in gold after Thanksgiving, so we have had a short squeeze in truth over the past year. Never have the lies been so thick and fast. All those who were short of truth (such as Paul Krugman) were run in and forced to cover, and they took horrific losses. Now they will hide the truth and pretend that they are making money.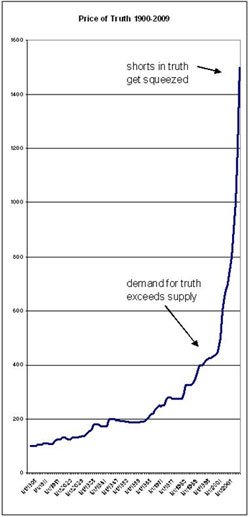 The One-handed Economist is planning to gain a monopoly of all the truth in the world. We are planning this for the year 2020. At that time, no one in the world will have any truth but us. And if you want the truth, you will have to come to us and pay our price.
SPECIAL NOTICE
WE ARE OFFERING TO BUY ANY PIECE OF TRUTH YOU HAVE. WE PAY TOP DOLLAR
TO ALL SUBSCRIBERS: WE ASK YOU TO HOLD TIGHTLY TO ANY SMALL BITS OF TRUTH WHICH YOU HAVE PICKED UP IN THE COURSE OF YOUR SUBSCRIPTION. DO NOT SELL UNTIL THE VERY LAST MOMENT, WHEN THE SHORTS ARE BEING RUN IN AND YOU CAN GET THE ABSOLUTELY HIGHEST PRICE.
SHYLOCK
URIAH HEAP
THE ONE-HANDED ECONOMIST
HA HA HA HA HA HA
Was it so hard to catch this week's top in gold? No, good technical analysis is not difficult to understand. It is, however, precise. Like a math problem you must get every step right to get the final answer.
The first thing you need to understand is that gold is a well behaved good. Most commodities are mean and nasty – at least to the newcomer. Each commodity has its own peculiarities. And you have to trade it for a while and become familiar with these peculiarities before you can make money.
The second thing to understand is that gold is very similar to a general commodity index. Indeed, I prefer trading it to the CRB index. We are in the second upswing of the commodity pendulum. This means that commodities in general are on the rise. If you knew that airlines were on the rise, you would prefer to buy a general airline index. If you pick just one airline stock, you might have the bad luck to pick an underperforming stock. And today we know that commodities are in a long term rise. In this situation, gold is an even better play than the CRB.
The reason that gold is a better play technically, and this is our third point, is that it is technically well behaved. In my technical discussions prior to gold's break of $1,000, I pointed out that gold had formed a symmetrical triangle.. This broke to the upside in September, and at that time I drew the symmetrical triangle together with its price objective line. This is a line from the upper left hand peak of the triangle parallel to its lower side.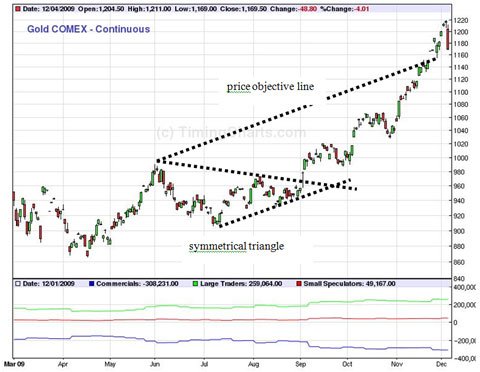 This price objective line hit1160 at the end of November, and this was our first technical signal of a possible intermediate top in gold. Such a price objective line does not necessarily signal a major top. Often it merely signals an intermediate top. And given the long term power that gold is showing this looks like an intermediate top to me.
Another nice signal came from the HUI, which formed a gravestone doji on Thursday. A gravestone doji goes way up early in the day and then falls back toward the close of the day giving back virtually all of its gains. Often this coincides with a high volume day on the Western chart.
The serious technician will read Technical Analysis of Stock Trends by Edwards and Magee. This book requires study, but it is a powerful tool. It is a tribute to these two men that the patterns they identified a half century ago continue to work nicely here in the 21 st century.
Candlestick patterns are also useful. They were developed by a 17 th century Japanese rice trader. Candlesticks make use of the opening, high, low and closing prices, whereas Western (bar) charts use high, low, close and volume. Steve Nissen is the acknowledged leader of candlestick charting here in America.
No chart pattern is perfect, and no chart pattern works all of the time. For this reason, one must multiply probabilities. For example, let us say that you are studying airline stocks. Out of five stocks, 3 complete bullish chart patterns. If each pattern has a 30% chance of failing, then the chance of all 3 failing is .3 x .3 x .3 = 2.7%. Since the airline stocks will likely all move the same way, this means that you have a 97.3% chance of success.
I want to thank all you people who e-mail me and want to discuss the markets. However, I am overwhelmed and do not have enough time for personal answers. I have to confine myself to a general discussion here in these articles and specific recommendations in the One-handed Economist.
In this regard, let me remind you that the One-handed Economist is only $300 for 26 issues. This is $11.50 per issue (with special bulletins thrown in for free). When you consider the value I have created for subscribers, both over the past year and the past decade, it is an incredible bargain.
Frankly, part of the reason I write these letters is that I feel a sense of mission. There is so much economic ignorance in the world and so much evil comes from it that I feel a sense of mission to explain economic truth. All around we see politicians and pseudo-intellectuals tell us that they are going to give us something for nothing. Yet (in the larger sense) something for nothing is impossible in this world. And the motive of those who advocate it is to enslave us. Sadly, for most of human history most of humanity have fallen for this lie and have remained slaves. Only America and the British Commonwealth of the 17 th-19 th centuries constitute an exception.
The One-handed Economist helps you to see the economic truth on a personal level. (I hope to have a new book in print this coming year which will deal with the same issue on a more philosophical level. If you would like to subscribe, then please visit my web site, www.thegoldspeculator.com . Or you may simply send a check to The One-handed Economist, 614 Nashua St. #122, Milford, N.H. 03055. Also, you may visit my blog at www.thegoldspeculator.blogspot.com (no charge). This week's blog is "The True Story of Christmas.
# # #