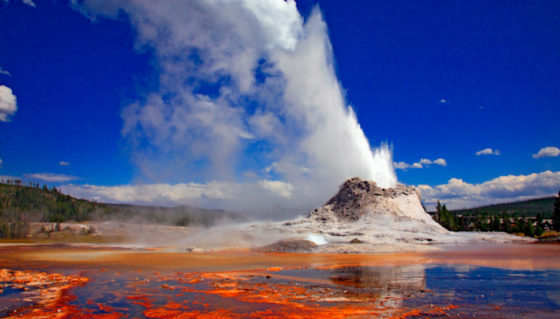 Yellowstone caldera eruption fears have spiked as the supervolcano's largest geyser erupted for the eight time.  So far, scientists aren't certain why the Steamboat geyser continues to erupt, adding to the fears.
After years of silence, Yellowstone's Steamboat geyser, a better show than Old Faithful, has spewed boiling water hundreds of feet in the air eight times since March.  Steamboat, the tallest geyser in the vast Yellowstone National Park, isn't reliable at all, unlike the more famous Old Faithful that belches steam with regularity. But the fact is, Steamboat has been more faithful, at least lately, spewing eight times since March 14, after being silent for nearly four years. But that regularity is terrifying and puzzling scientists.
Until this recent series of eruptions, the last time Steamboat blew was in September 2014. Steamboat's latest eruption was Monday morning when the geyser shot boiling hot water hundreds of feet into the air. Steam billowed from the geyser for hours longer. Steamboat is located in the Norris Geyser Basin, known to have the hottest and most changeable thermal area in nearly 3,500-square-mile wilderness park that sits on a volcanic hot spot called a caldera. That accounts for the geyser's towering columns of steam (it's very, very hot underground) but leaves a major fear-provoking question unanswered: Why now, and is it a sign the giant volcano is waking up?
Scientists don't know why the Steamboat geyser has become more active, but they still insist that no major eruption is on the horizon. "It is a spectacular geyser," Michael Poland, the U.S. Geological Survey's scientist in charge of the Yellowstone Volcano Observatory, wrote to CNN in an email. "When it erupts, it generally has very big eruptions."
Data collected so far suggests a pattern to the eruptions within the series. If it all "proves out," the days surrounding June 11-12 are good dates to potentially see the Steamboat geyser erupt, Forbes reported. "Most geysers erupt infrequently, unlike Old Faithful, so Steamboat is not enigmatic in that regard. But Steamboat has a mystique about it because it is the tallest active geyser in the world. It gets attention because of this, and rightly so," Poland said.
The day of the first eruption, park staff detected activity on nearby seismometers, thermal gauges, and water discharge on a US Geological Survey stream gauge. Yellowstone National Park staff arrived in time to observe steam from the geyser but no water column. According to the Geological Survey, this is a usual occurrence after a vigorous water eruption. The steam phase can last several hours.
Scientists consider Yellowstone to be a "'supervolcano," which refers to volcano capable of an eruption of more than 240 cubic miles of magma," according to the National Park Service. This distinction is based on massive eruptions over 600,000 years ago. Although the caldera is considered active, scientists believe that it is unlikely to erupt in the next thousand years.
There doesn't seem to be a direct relationship between these eruptions and the supervolcano, Poland wrote. "The geyser is reflecting processes that are occurring in the shallowest part of the system — tens to perhaps a few hundreds of meters deep, whereas the magmatic system starts about 5 km down. Geysers are supposed to erupt, and so what we're seeing is normal behavior." So once again, we are being told this is all normal abnormal activity.