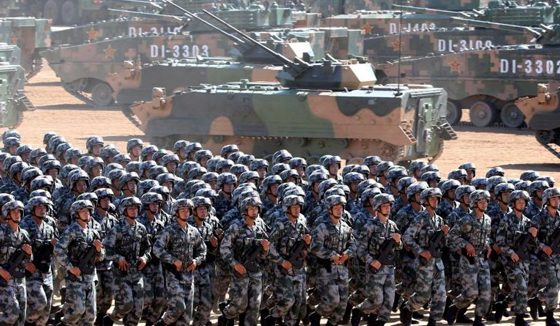 Chinese communist party leader and totalitarian tyrant has ordered the Chinese army to be ready to fight "without fear of death." He has said the army should "be ready to fight at any second," as tensions continue to heighten with India and Taiwan.
Xi, one of Earth's most brutal tyrants, who chairs China's Central Military Commission, ordered the People's Liberation Army (PLA) to maintain "full-time combat readiness" and to be ready to "act at any second." He has also reportedly directed the military to bolster training in 2021 and use more hi-tech in its drills, according to a report by RT. 
"The commanders and the soldiers of the whole army must… carry forward the spirit of combat without the fear of hardships and the fear of death," the order read, noting that this year will be the 100th anniversary of the founding of the Communist Party of China.
Last month, China sent an aircraft carrier through the Taiwan Strait a day after a US warship sailed there. Beijing's increased military posturing in the region took place as Taipei launched a rearmament program and secured several major arms deals with Washington.

China and the US continued accusing each other of provocative maneuvers in the South China Sea, while their ties were further damaged by a trade war and Washington's support for the protest movement in Hong Kong. -RT
Nigel Farage has also been outspoken about the CCP's desire for total war on the planet. "This Chinese Communist Party poses a massive threat to the world, a threat to our freedom, a threat to our way of life," Farage said. "So my next campaign is to make sure people understand who China are, what the Chinese Communist Party is, what it's doing to its own people, what it wants to do to the rest of the world." He added: "We need to wake up to the threat that is posed by China," he said according to a report by Sky News Australia. 
The warning about China from Farage is timely considering China appears to be preparing its soldiers for death.  As we are all stuck on this prison planet with the ever-increasing enslavement of the masses by the few politicians and elitists, it is becoming much more difficult to stick one's head in the sand and pretend it is anything less.