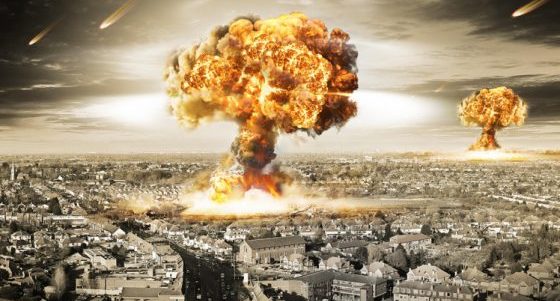 The Russians will respond with an attack if the United States decides to take action in Syria, according to Fox News' Senior Security Analyst. He also said Washington should" refrain from confrontation" with Russia if there's any hope of avoiding a third world war.
Walid Phares made the comments recently on Fox News after the alleged chemical attack in Douma, Syria. The Russians are still claiming there is no evidence of the attack and any retaliation would be over false information and "fake news."
More troubling is that also on Monday, Russia's Ambassador to the UN Vasily Nebenzia said that the Americans would have to deal with "serious consequences" should they attack Syria.

"We have repeatedly warned the American side about highly negative consequences that may follow if they apply weapons against the legitimate Syrian government, and especially if the use of these weapons – God forbid, affects our military men, who legally stay in Syria," the Russian Ambassador to the UN said at a meeting of the UN Security Council. –SHTFPlan
Phares told Fox News: "Well look, the Russians are today stronger in Syria than they were a year ago and certainly six years ago. "So they are trying to say to us and our partners that there will be a response maybe directly by the Russians or as they do usually, task the Iranians to do it."
His comments come after US President Donald Trump threatened imminent military action against Syria and Russia over the "atrocious" alleged poison gas attack that supposedly killed at least 60 civilians. But there still isn't much evidence to support that theory. There's "words" of those who aren't all that reliable. (White Helmets and the US mainstream media.)
The most recent attack, which screams 'false flag' like no other, comes as no surprise to many observers. Russia was sounding the alarm last month that US instructors were actively training militants for a "chemical provocation" that would be used as a pretext for carrying out an attack on the Syrian government (Syrian doctors, meanwhile, said they had not received victims with signs of chemical poisoning from Douma, and Russian Foreign Minister Sergey Lavrov has said no evidence has been found of a chemical weapons attack). –RT
But that won't stop the US from using weapons in Syria, and Trump has already put the war-torn nation on notice via his Twitter account.
https://twitter.com/realDonaldTrump/status/984022625440747520?tfw_creator=RT_com&tfw_site=RT_com&ref_src=twsrc%5Etfw&ref_url=https%3A%2F%2Fwww.rt.com%2Fusa%2F423802-trump-get-ready-russia-missiles%2F
The tweet appears to be an unofficial announcement of the "major decisions" which Trump said Washington would be making soon regarding the alleged chemical attack in Syria. It also comes just after Russia vowed to shoot down any US missiles aimed at Syria. "If there is an American strike, then we… will shoot down the missiles and target the positions from where they were launched," Alexander Zasypkin, the Russian envoy to Beirut, said on Wednesday. "In the past few days, we have seen an escalation towards a significant crisis."
We appear to be on the precipice of a major conflict in Syria. Oddly enough, most assumed North Korea would start the third world war. If Trump bombs Syria, it would be the US. Tensions are high and prospects for avoiding a horrific conflict look awfully low right now.