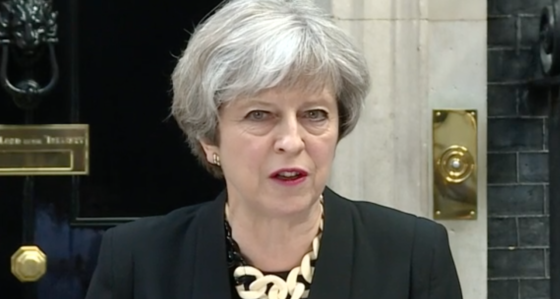 The United Kingdom's prime minister Theresa May has ordered submarines to Syria. Reports alleged that a strike is ready to occur in the next 24 hours…or less.
The strikes could begin as early as Thursday night, the Daily Telegraph reports. Government sources allegedly said Britain was "doing everything necessary" to be able to fire Tomahawk cruise missiles from submarines against military targets in Syria. This latest maneuver signals the UK's willingness to enter into a war with seemingly everyone else.
A report from CNBC, however, claimed that May has not yet decided if she'd like to enter a third world war alongside the US and France just yet, but she'd like to be able to fire off some missiles and "act quickly." According to RT, May will hold an unscheduled meeting of her cabinet on Thursday, which will involve senior ministers, her spokesman told media. While the agenda of the meeting has not been made public, reports suggest May is going to seek approval for military action in Syria.
"All the indications are that the Syrian regime was responsible," she said, adding that the UK will be working with its allies to "ensure that those who are responsible are held to account." Russia, which has been lending support to the Syrian government's campaign against jihadists, is accused of being complicit.
This move comes on the heels of threats from president Donald Trump that "smart missiles" will be heading toward Syria and Russia was to blame. The Russian and Syrian governments have both denied that a chemical attack was carried out by either. Nonetheless, without evidence that the Syrian government did, in fact, use chemical weapons on its own people, many politicians, with access to nuclear weapons, are ready to begin a war. Sleep tight, everyone.
Russian spokeswoman Maria Zahkarova accused the US of sending their "smart missiles" to destroy all evidence that this chemical attack was fabricated by the White Helmets, who are on the side of the rebels. 
Speaking with EuroNews, Russia's ambassador to the European Union, Vladimir Chizov, said "Russian military specialists have visited this region, walked on those streets, entered those houses, talked to local doctors and visited the only functioning hospital in Douma, including its basement where reportedly the mountains of corpses pile up. There was not a single corpse and even not a single person who came in for treatment after the attack."
"But we've seen them on the video!" responds EuroNews correspondent Andrei Beketov.
"There was no chemical attack in Douma, pure and simple," responds Chizov. "We've seen another staged event. There are personnel, specifically trained – and you can guess by whom – amongst the so-called White Helmets, who were already caught in the act with staged videos."
According to Zerohedge, in a statement to the UN Security Council on April 9, Russia's UN Ambassador, Vassily Nebenzia outlined Russia's position on the timeline of the attack in Douma, as well as the Western response after the White Helmets reported that chemical agents were used:
On April 6, the new head of Jaysh al-Islam, following instructions of sponsors, derailed the evacuation of a party of fighters from Douma and resumed the rocket and mortar fire against residential areas in Damascus. The firing targeted [indistinct name of four areas]. According to official information, eight people died. 37 civilians were wounded. Unfortunately, we failed to see statements from Western capitals condemning the shelling of a historical district of Damascus. The following day, April 7, fighters accused the Syrian authorities of dropping barrel bombs with toxic substances. At the same time, diversions were being mixed up. It was either called sarin, chlorine, or a mix of toxic gases. Based on a well-known scheme, these rumors were immediately taken out by those who are financed by western capitalists; I am referring to NGOs and the White Helmets who are mendaciously acting under the cloak of health professionals. And these reports were also taken up and transferred to media outlets. –Zerohedge
Theresa May told President Trump on Tuesday that Britain would require more evidence in last weekend's suspected chemical attack before committing to a military strike against Syria, reports The Times. It looks like she's changed her mind. Like the rest, they employ no evidence or logic when starting a war.