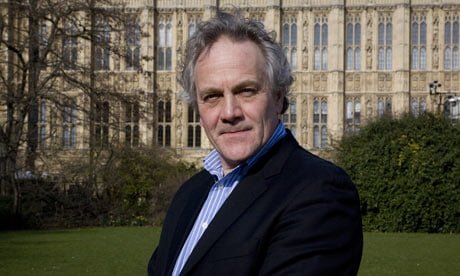 (Pictured: Henry Porter, World Citizen)
In his latest article, London Observer writer Henry Porter denigrates American gun owners by calling us insane and requests the assistance of the United Nations to "disarm the irrational rustics."
It's a sentiment shared by many world citizens, as well as about 52% of Americans who participated in a recent Huffington Post poll.
Outside of the United States, where the idea of self-ownership and the natural right of self-defense is at best a dismal concept, members of the corporatized media are calling for armed intervention to put an end to the Second Amendment.

"But what if we no longer thought of this as just a problem for America and, instead, viewed it as an international humanitarian crisis – a quasi civil war, if you like, that calls for outside intervention?" writes Henry Porter of the London Observer. "As citizens of the world, perhaps we should demand an end to the unimaginable suffering of victims and their families – the maiming and killing of children – just as America does in every new civil conflict around the globe."

Mr. Porter proudly notes that Britons long ago dispensed with English Common Law – apparently including its precedent, the Magna Carta – and insists that the right to bear arms is an antiquated idea akin to holding slaves.

"Half the country is sane and rational while the other half simply doesn't grasp the inconsistencies and historic lunacy of its position, which springs from the second amendment right to keep and bear arms, and is derived from English common law and our 1689 Bill of Rights," he writes. "We dispensed with these rights long ago, but American gun owners cleave to them with the tenacity that previous generations fought to continue slavery."

Maybe the United Nations can be sent in to disarm the irrational rustics. "This has reached the point where it has ceased to be a domestic issue. The world cannot stand idly by."
If Mr. Porter had it his way he'd deploy a United Nations force of armed military personnel to the United States for the sole purpose of disarming law abiding Americans.
What Mr. Porter apparently doesn't understand is that the Second Amendment is the very backstop for people like him, who would violate the natural laws of self preservation and property rights by use of force.
Rather than claiming that we fight for our right to bear arms with the tenacity of slave owners, I like to think we fight for this right with the same tenacity that we fought British imperial rule in the late 1700's. But Mr. Porter didn't want to make that analogy, for obvious reasons.
Mr. Porter, I will be the very first American to surrender my weapon to you… from my cold dead heads.
My good friend and Army veteran Ed Thomas who has spent many months in a war zone, and who is also the editor of The Daily Sheeple, has a similar message, and one he recently tattooed on his arm expressly for the purpose of informing people like Mr. Porter and other world citizens who have any skewed ideas about how easy such a gun grab might be: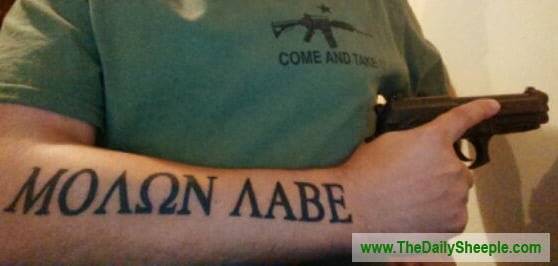 Come and Take It, Mr. Porter.