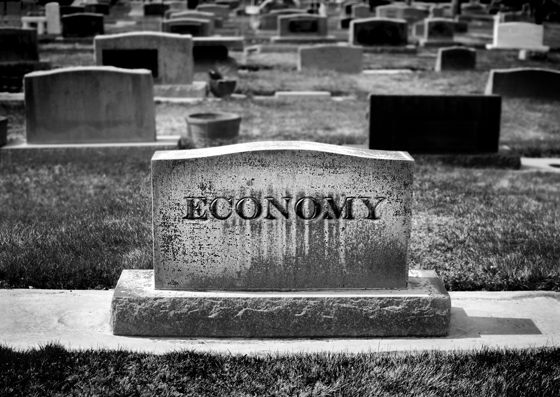 World Bank is warning that the skies are darkening for the global economy.  The outlook isn't that great and there are increasing risks to the entire planet's economy.
In its annual assessment of global prospects, the World Bank predicts continued, yet somewhat slower, growth this year and next year. According to a report by the BBC, the Bank's forecast for the global economy is an expansion this year of 2.9% and 2.8% in 2020.  However, there are rising concerns that make economists take pause and issue warnings.
While the global economy is slowing down it's likely to be what the Bank's economists call a "soft landing". The slowdown started in the middle of last year and it has so far been "orderly."

The predicted slowdown is focused on the rich countries, particularly the US, although it will continue to expand more rapidly than either the Eurozone or Japan according to the Bank's forecasts.

The US slowdown is the result of the fading impact of President Trump's tax cuts and by 2021 its growth will have almost halved – to 1.6% compared with 2.9% last year.-BBC
The Bank does not expect a recession in either the United States or China. Some commentators, though, are now suggesting the U.S. could be heading for one next year and if it were to happen the risk of a global recession would increase sharply. Many Wall Street analysts fear that U.S. bond markets, where short rates are now almost higher than long rates, are signaling the possibility of a U.S. recession. In the past, the report says, the risk of a global recession in any one year was 7%. But if the U.S. has a downturn, the probability goes up to 50%.
https://www.shtfplan.com/headline-news/cfos-predict-a-2020-market-crash-and-recession-in-2019_12132018
High levels of national and consumer debt, coupled with the trade war and monetary tightening are shouldering the blame for the "darkening skies" of the global economy.  World Bank noted that low-income countries have seen their government debt levels rise from 30 percent to 50 percent of GDP over the past four years, forcing them to spend more on interest payments. "At the beginning of 2018 the global economy was firing on all cylinders, but it lost speed during the year and the ride could get even bumpier in the year ahead," said the bank's CEO Kristalina Georgieva.