Imagine an internet where access to the free flow of information is strictly controlled by government and their corporate partners.
It might look a little something like Wikipedia today: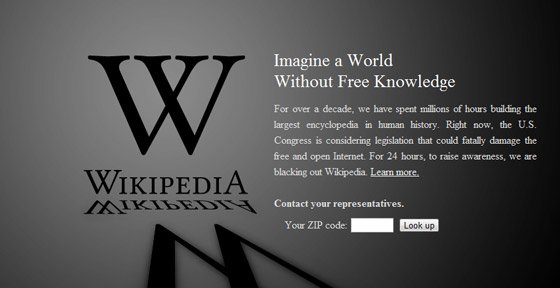 Multiple sites have gone 'Dark' today in protest of two bills  in Congress that are designed to stop copyright infringement.  Those bills are the Stop Online Piracy Act (SOPA) and the Protect IP Act (PIPA).

Wikipedia today blacked out the U.S. version of its website in protest and Google has blacked out the logo on its homepage and linked to a page that allows users to sign a petition against the two acts.

Source: The Daily Sheeple
Google Protest: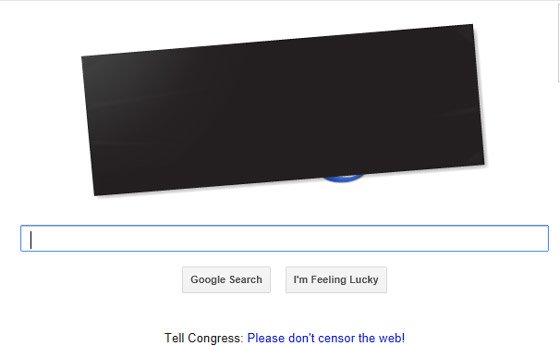 Craigslist Goes Dark: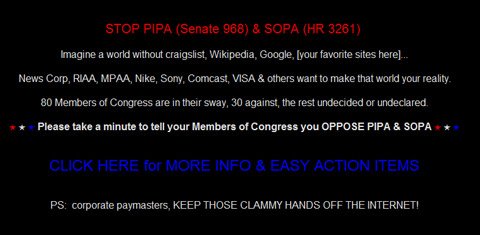 This isn't the first time that web innovators and leaders have taken their web sites dark. Congress tried a similar ban on freedom of information in the 1990's, when thousands of web masters of online companies large and small took part in "Black Thursday" :
On February 1, 1996, U.S. Congress passed the Telecommunications Act, a telecommunications reform bill containing the Communications Decency Act. Timed to coincide with President Bill Clinton's signing of the bill on February 8, 1996, a large number of web sites had their background color turned to black for 48 hours to protest the Communications Decency Act's curtailment of free speech. The Turn the Web Black protest, also called Black Thursday, was led by the Voters Telecommunications Watch and paralleled the Blue Ribbon Online Free Speech Campaign run by the Electronic Frontier Foundation. Thousands of websites, including a number of major ones, joined in the protest. The campaign was noted by major media such as the CNN, TIME magazine and The New York Times.

The Communications Decency Act which gave rise to the protest was ruled unconstitutional by the Supreme Court on June 26, 1997.

Source: Wikipedia (Accessed via cached historical pages, as Wikipedia has gone dark as of today)
Earlier this week we noted that President Obama has officially threatened to veto the legislation, and Congressional members are starting to back off, with reports suggesting that the Stop Online Privacy Act has been shelved indefinitely.
Thus far it looks like internet protests from users and well known online companies have been successful in killing, or at the very least, stalling the legislation.