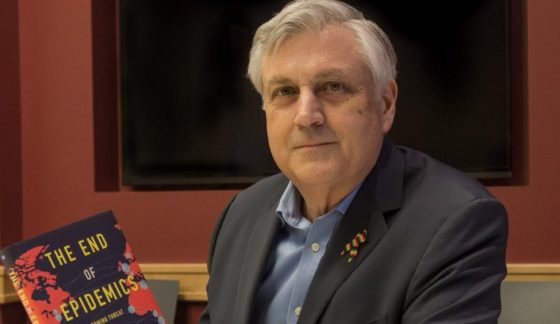 Dr. Jonathan Quick, a medical doctor and one of the world's top health professionals claims that the conditions are perfect for a new superbug in the form of a killer flu virus pandemic.  Quick also believes that this pandemic could kill upwards of 33 million people in just 200 days.
A piece written by Dr. Quick and published on The Daily Mail UK's website lays out why the doctor believes this pandemic is just around the corner.
The big one is coming: a global virus pandemic that could kill 33 million victims in its first 200 days.

Within the ensuing two years, more than 300 million people could perish worldwide. –Dr. Jonathan Quick, The Daily Mail UK
Quick says one extreme scenario of a killer flu pandemic will fling the globe into financial chaos.  If millions of people die because of the pandemic, there won't be enough survivors to run the computers or energy systems, leaving many to loot or die of starvation in the months following such a deadly outbreak.
As a medical doctor and a health chief who has led global programmes at the World Health Organisation (WHO), I believe that the world is at risk of a viral pandemic that will be at least as deadly as anything we have ever known before.

The most likely culprit will be a new and unprecedentedly deadly mutation of the influenza virus. The conditions are right. It could happen tomorrow.  –Dr. Jonathan Quick, The Daily Mail UK
A century after the Spanish Influenza outbreak which killed 100 million people, we are just as vulnerable to the flu now, says Dr. Qucik.  But what about all those fancy vaccines? Doesn't that mean they don't work? Logic says 'yes' but propaganda says 'no.'
A century on, the history and biology of the influenza virus tells us that we should expect another major global pandemic soon. Experts say it is already overdue. Human influenza usually starts with wild aquatic birds, because avian flu is very common in waterfowl. Once in a while, a wild bird virus gets friendly with a different strain inside of another bird, or even a pig. The different strains can then swap genes, effectively swapping skills such as being highly contagious or deadly.
When that combination from the birds and beasts finds its way into a person, the resulting new human strain can kill us more easily because it is unknown to us and our bodies have zero immunity to it. This is most likely how the Spanish flu took hold. But Dr. Quick says that it's our addiction to cheap meats that will cause this new pandemic.
Pigs eat almost everything, so their guts are the perfect mixing bowls for flu strains. When pigs eat droppings of sick wild birds or the chickens living near them, the flu viruses in their digestive systems can swap their genetic material to create new strains. Dr. Quick suggests eating less meat and dairy products from factory farms as a way to "vote with your mouth."
Quick is also pro-vaccine and is calling for a universal flu vaccine that will somehow magically protect all 7.4 billion people on Earth from every single possible mutatable from the numerous types of the influenza virus.