This analysis was originally published by Jim Quinn at The Burning Platform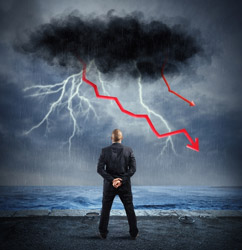 The Census Bureau put out their monthly retail sales report this morning. During good times, the MSM would be hailing the tremendous increases as proof the consumer was flush with cash and all was well with the economy. Considering 70% of our GDP is dependent upon consumer spending, you would think this data point would be pretty important in judging how well Americans are really doing.
It's not perfect, because the issuance of debt to consumers to purchase autos, furniture, appliances and electronics can juice the retail sales numbers and create the false impression of strength. That's what has been going on with auto sales for the last two years.
The retail sales figures have been propped up by the issuance of subprime auto loans to deadbeats, 7 year 0% interest loans to good credit customers, and an all-time high in leases (aka 3 year rentals). Despite this Fed induced auto loan scheme, retail sales have still been pitiful, as the average American has been left with stagnant wages, 0% interest on their minuscule savings, surging rent and home prices, and drastic increases in their healthcare costs due to Obamacare.
The retail sales for March, reported this morning, were disastrous and further confirmed a myriad of other economic indicators that the country is in recession. GDP for the first quarter will be negative. And this time they can't blame it on snow in the winter. They have already doubly seasonally adjusted the figures, and they will still be negative. Retail sales in the first quarter were atrocious. It might make a critical thinking person question the establishment storyline of solid job growth being peddled by politicians and their MSM mouthpieces. If people had good paying jobs, they would be spending money.
The Ivy League educated "expert" economists expected March retail sales to increase by 0.1%. They only missed by $6 billion, as retail sales FELL by 0.3%. They have fallen for three straight months. At least gasoline sales were strong, as prices have risen 22% since mid-February. That should do wonders for the finances of American households. If you exclude gasoline sales, retail sales fell by 0.4%. As the chart below reveals, the year over year change in retail sales has been at or near recessionary levels for most of 2015, and into 2016.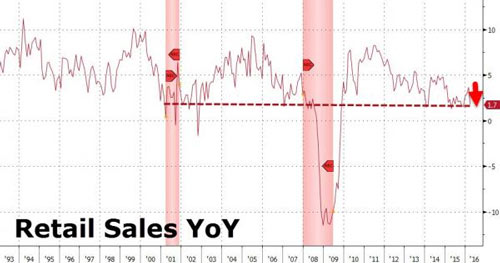 Digging into the details reveals some worrying trends for the establishment purveyors of propaganda. It seems every deadbeat in America has been convinced to buy a car on credit. They've run out of useful idiots. Auto sales plunged by 2.3%, the fourth decline in a row, and the biggest decline since last February. This ongoing plunge in auto sales is happening in spite of dealers offering tremendous levels of incentives, rebates, extended 0% financing, and low priced leases. The TV commercials from the automakers offering once in a lifetime offers are endless.
The Fed induced auto loan bubble is bursting, as default rates on the billions of subprime slime loans issued in the last few years skyrocket, and the prices of used cars crash as the millions of leases come due. Dealer lots are overflowing with overpriced automobiles with no demand. The implications of this bubble bursting are far reaching. The fallacious demand created by easy money kept the union manufacturing plants humming and allowed Obama to crow about saving the auto industry. As demand collapses, layoffs will surge, and the minimal profits being generated by GM, Ford, and Chrysler will turn to huge losses again.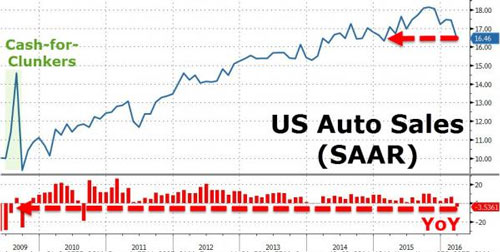 The two retail areas which had remained strong over the last few years, restaurant sales and internet sales, both went negative in March. Their growth rates have slowed dramatically over the last three months. It might make you wonder whether paying $600 per share for Amazon stock is really a smart investment. With restaurant sales petering out, how many more waiters and waitresses are going to be hired to keep the Obama jobs recovery on track? With year over year retail sales, excluding autos, up by a pitiful 1.3%, and real inflation for real American families of at least 5%, real retail sales are falling. That might explain the plunging retail profits.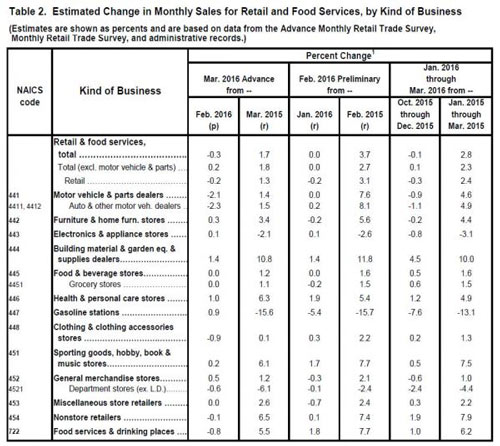 The free fall in department store sales continues unabated, with year over year sales down 6.1%. Anyone buying into the JC Penney, Sears, Macy's, Kohl's revival storyline is a fool. Wall Street can sell that tripe to their "clients", but the bricks and mortar department stores are dead retailers walking.
You would think real journalists working for real business websites like Marketwatch (owned by the Wall Street Journal/Rupert Murdoch) would report these disconcertingly bad economic numbers in great detail. But shockingly, when I clicked onto the Marketwatch website to find their brilliant detailed analysis of the horrific retail sales report, I found absolutely nothing. It was as if this report never existed. I checked back all day long, and nada. It's almost as if they wanted to bury the story.
Evidently, recessionary levels of retail sales doesn't fit the agenda of the establishment. They prefer concentrating on the rising stock market, driven by short covering and HFT machines buying from each other. The mainstream media is controlled by six corporations. Their job is not to tell you the truth. Their job is to keep you sedated, distracted, and amused. Any critical thinking individual can discern they are in the midst of a recession, but those in power will never allow the truth to reach the masses. Bad news reflecting reality is unacceptable to an entrenched ruling class who are not quite done pillaging the remaining wealth of the nation.
"Truth is treason in the empire of lies." – Ron Paul
Visit The Burning Platform for more analysis, commentary and news.