Are we alone out here, navigating through the often dangerous and unpredictable seas of life all by ourselves?
When disaster strikes, and we know it will at some point, many of us anticipate that no one but ourselves and those closest to us will be there to provide help when we need it most.
When we're at our weakest, when all hope is lost, and when survival seems impossible, Divine Providence may well intervene and come to our aid.
Whether you believe in God and guardian angels or not, there is ample evidence from thousands of stories from people around the world that suggest what we think we know about our existence is very limited in scope – and that there is more out there than we'll ever understand.
A small Missouri town is looking for a man not suspected of a crime but, rather, a miracle.

"I think that this time I've actually witnessed a guardian angel at work," Jeremiah See of the New London Fire Department told ABC News.

An unidentified allegedly drunken driver hit Katie Lentz, of Quincy, Mo., head on Aug. 4 while traveling on Route 19 near Center, Mo., pinning the 19-year-old in the front seat of her convertible. With her vital signs failing fast, she asked rescue crews to pray with her.

That's when first responders say a man who looked like a Catholic priest seemed to appear out of nowhere, despite a 2-mile perimeter blocking the scene.

"He began to pray and use the anointing oil," New London Fire Chief Raymond Reed said. "There was a calmness that, to me, seemed to come over the entire scene."

But that's not the only seemingly divine detail.

Firefighters say their equipment kept failing until the mystery man showed up.

"The words were to remain calm, that our tools would now work," Reed said. "Instantaneously, at that moment, our neighboring department arrived with fresh extrication tools."

Lentz survived, but the man vanished before crews could thank him.

ABC News via Steve Quayle
A sketch artist's rendering of the "mystery priest:"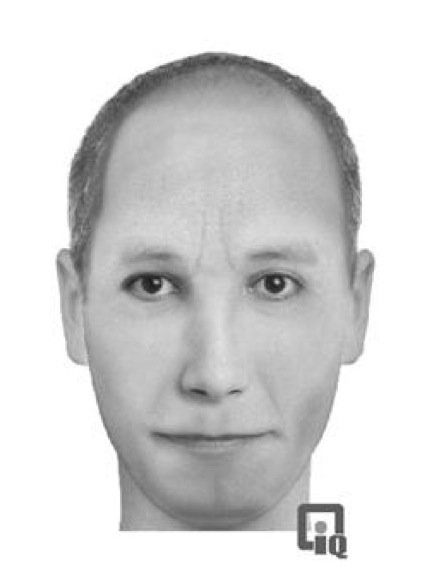 Watch Sheriff's Deputy Richard Adair, who was first on the scene, relay his story:
I never saw how he got there. The road was blocked off for quite a few miles… two or three miles. I don't see how he could have driven up in a car because he wouldn't of been allowed past the other emergency responders that were blocking the highway. And, it was way too far for an ordinary person to walk there. Then he was gone. I don't know how mysterious that is.

But his actions gave hope and faith to the emergency workers.

Before he had arrived the fire chief had stepped back and had come up to me and said that he was concerned because he was out of options…
What happened in Center, Missouri on August 4th is debatable.
What we know is that a man – a figure – came out of nowhere in an area that had been cordoned off for miles by emergency personnel. A 19-year old woman was clinging to life, perhaps even stepping from this world to the next. This mysterious priest, dressed as such and witnessed by numerous people at the scene, blessed the woman and prayed for her while standing next to her mangled car for 20 minutes. He told emergency crews to remain calm and that their tools would work, at which point reinforcements arrived and were then able to extract her from the vehicle and save her life.
Whatever the case, this was not a 'normal' event.
Prepare as best as you can for the difficult times that will inevitably come to all of us, and understand that sometimes it's in the hands of a power we may never comprehend while living in this world.