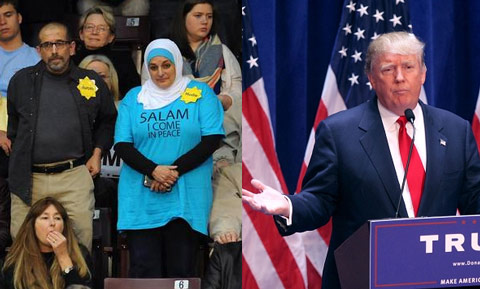 There have been widespread calls for Presidential front runner Donald Trump to issue an apology to Rose Hamid. You'll recall that Hamid was the woman who silently protested a Trump campaign stop before being ejected from the event by security.
But as has often been the case with political plants at Republican events, the public was only given part of the story.
In reality, Rose Hamid isn't a silent follower of the religion a peace, but rather, an ardent supporter of Jihadist activities, having gone so far as to refer to jihadi terrorism as "resistance against occupation." Moreover, she personally promoted an event held by one of the terrorists responsible for the bombing of the World Trade Centers in 1993 and by doing so directly supported his calls for the creation of an Islamic state under Sharia law in the United States of America.
Rose Hamid, an Islamic protester who made headlines when she was removed from a Donald Trump rally in South Carolina Friday night and attempted to position herself as a victim of 'Islamophobia' thereafter, has a history rife with extremist advocacy.

…

Throughout this fiasco, Hamid has frequently been described as an innocent bystander without a political agenda– a mere citizen who wanted to share her voice.

But Breitbart News has learned that Hamid is not simply a "flight attendant," but is also an Islamic activist who apologizes for Palestinian terrorism and promotes radical Imams.

As President of the Muslim Women of the Carolinas, Hamid has consistently promoted anti-Israel propaganda and has excused Palestinian jihadi terrorism as "resistance" against "occupation."

…

Hamid's Muslim Women of the Carolinas group has in the past promoted an event with Imam Siraj Wahhaj, an unindicted coconspirator in the trial of the 1993 World Trade Center bombing. Wahhaj, a 9/11 truther, has called for the creation of an Islamic state in the United States.

…

Marty Rosenbluth, the man standing next to Hamid at the Trump event, is an anti-Israel activist, a proud Communist, and a Sen. Bernie Sanders supporter, according to comments made on his Facebook page.
Once again Democrat attempting to marginalize Trump have been caught red handed trying to paint a completely false narrative.
Karl Denninger weighs in:
I'm done.

You should be done.

Cologne wasn't enough, right?  Rape, groping, basic human indignity and men behaving like animals toward women en-masse.  What part of "civilized" comports with that?

…

You have a right to free speech in this country.  You do not have a right to trespass on private property and disrupt an event, even silently.  I do not recall anyone telling Ron Paul during the last election cycle that he owed apologies to the strippers that "someone" hired to infiltrate his event in Tampa; they, like Hamid, were escorted out.

Since the media won't honestly report on who this jackal actually is and the positions she has taken in the past and neither will CAIR, it's time for the rest of America to BOYCOTT these media outlets, all of their advertisers (yes, that includes you CNN) and anyone affiliated with or associated with either.
We know this is a stretch, but could it be that Donald Trump is being attacked for his views and the Democrats are throwing everything they have at him because he is simply saying what tens of millions of Americans in the silent majority have been thinking for years?