This article was originally published by Joshua Krause at The Daily Sheeple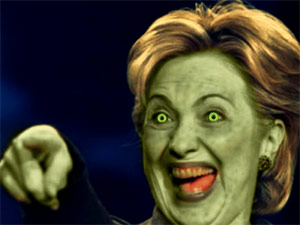 Perhaps it's a little cliché to say this, but most politicians have no real substance. They really only have two primary skills, which is acting and public relations. They are nothing more than professional election winners, and anyone with a half a brain knows that the politician you see on stage is a different person behind the curtain. However, this fact applies more to Hillary Clinton than any other presidential candidate.
According to The First Family Detail, a book that investigates the lives of Secret Service agents, Hillary Clinton is probably the nastiest, most abusive individual in American politics today. Behind the scenes she talks down to everyone that works for her, and throws tantrums at the slightest provocation. She frequently cusses out agents for driving over bumps, screamed at an electrician for replacing a light bulb in her presence, and even fired the White House usher for communicating with Barbara Bush. Secret Service agents actually hide from her when she shows up, and those that are assigned her detail consider it a form of punishment.
More importantly, she has clearly hidden her disdain for the average American. Once when traveling through Upstate New York, she started seeing cows and farmers. She turned to her staffer and said "What the f – – – did we come here for? There's no money here." According to one agent, Hillary also seems to loath anyone in the military, and didn't let military aides wear their uniforms in her presence. "She was just really rude to almost everybody. She'd act like she didn't want you around, like you were beneath her." As author of the book, Ronald Kessler so aptly put it "No one would hire such a person to work at a McDonald's, and yet she is being considered for president of the United States."
Delivered by The Daily Sheeple