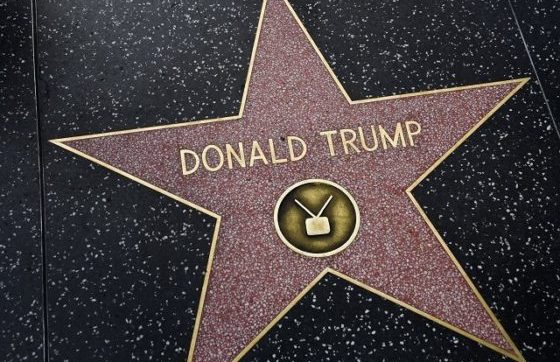 Citing president Donald Trump's treatment of women, minorities, and illegal immigrants, West Hollywood's city council has passed a resolution aimed at removing his star from the Walk of Fame. The city's mayor said the Trump administration's policy on separating children from parents was also a reason to have his star removed.
The neighborhood's City Council passed the resolution, citing Trump's "attacks" on "minorities, immigrants" and other groups, West Hollywood Mayor John Duran said a statement to NBC News. "The West Hollywood City Council did not pass the resolution because Donald Trump is a conservative or a Republican. Earning a star on the Hollywood Walk of Fame is an honor. When one belittles and attacks minorities, immigrants, Muslims, people with disabilities or women — the honor no longer exists," Duran said in an email.
Trump's star, which he earned in 2007 for his work on the Miss Universe pageant, has been vandalized repeatedly in recent years.  It has been painted with Nazi swastikas and even smashed with a pickaxe.  The suspect in the pickaxe incident was identified as Austin Clay. He has been booked on suspicion of felony vandalism. In 2016, weeks before the presidential election, a man dressed as a construction worker also smashed the star with a pickax and sledgehammer.
The council does not have any direct authority over the Hollywood Walk of Fame, however, they will now share the resolution they've come up with with the Hollywood Chamber of Commerce. In a statement, the Hollywood Chamber of Commerce President and CEO Leron Gubler said his group would refer the council's resolution to its executive committee "for consideration at their next meeting."
"As of now, there are no plans to remove any stars from the Hollywood Walk of Fame," Gubler said. "The West Hollywood City Council does not have jurisdiction over the Hollywood Walk of Fame."  Which is why they have referred the resolution to the Hollywood Chamber of Commerce for consideration of the star's removal.