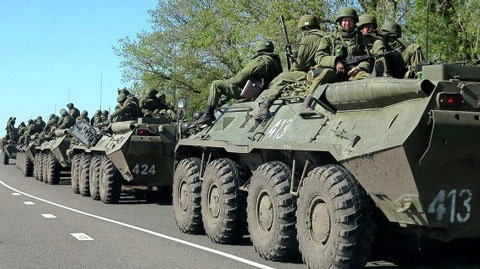 Just because they're not talking about it anymore doesn't mean it's over.
Hundreds have been killed in skirmishes between Ukrainian military forces and pro-Russian separatists in recent weeks and the ceasefire that has kept the Ukrainian (and Russian) militaries at bay and casualties relatively low given the circumstances has now come to a close, according to Ukraine's western supported President Petro Poroshenko.
Poroshenko, citing the failure of rebel forces to disarm, says the Ukrainian army is now preparing an offensive to free border crossings and pockets of rebel held territory.
Ukrainian President Petro Poroshenko said he is halting a unilateral cease-fire in the conflict with pro-Russian separatists and says Ukrainian forces will go on the offensive against the rebels.

A statement from Poroshenko on his website early Tuesday said the cease-fire is being halted and that "we will attack and we will free our country."

…

Rebels did not comply with Poroshenko's latest push to get them to turn over key border crossings with Russia and permit international monitoring of the cease-fire.

"The unique chance to put the peace plan into practice was not realized," Poroshenko said in a speech prepared for delivery to the nation. "This happened because of the criminal actions of the fighters."
Poroshenko did not make any claims to the contested region of Crimea, which is currently being presided over by Russian interests.
What remains to be seen is how Russian President Vladimir Putin will respond to Poroshenko's military push. There are reportedly over one hundred thousand Russian troops deployed along the Ukranian border and reports as early as last month indicated that those units may be preparing a counter-offensive against the Ukranians in an effort to lend support to separatists in the region. On June 20th reports that Russian tanks had crossed into Ukraine sovereign territory raised fears that Putin was preparing an all out invasion.
The situation on Russia's border remains fluid with no clear path to peace having been established. If anything, tensions have left the region at a breaking point. According to the President of Poland, who called up his country's Army reserves for the first time in its history, the world sits on the brink of war.
President Obama, in a show of force and solidarity with the Ukranians, deployed several hundreds U.S. troops to Poland in April. The United States also leveled financial sanctions against top Russian diplomats and politicians that included asset forfeiture at western-friendly banks.
It was rumored that the United States may even go after the personal fortune of Vladimir Putin, a move that many have suggested would inevitably lead to an all out East/West confrontation.
Just days after that report Russian strategic bombers were spotted flying along the U.S. west coast. Coincidentally, air traffic control system in Southern California and  several hundred miles inland were reportedly taken out of service at around the same time.
It is not clear where the United States stands on Ukraine President Poroshenko's latest call for military strikes, nor can we see into the mind of Vladimir Putin and how far he is prepared to go to defend Russian interests not just from the Ukraine, but from western influence directly on his country's border.
Will Putin invade Ukraine in response to Poroshenko's call to arms? Or will he, as John Galt FLA noted, become the Obama of Eurasia?
Perhaps the real question is not whether Putin decides to invade the Ukraine. It's how will President Obama respond if he does?
There can be no half measures taken should Russia respond to Ukraine's halting of the ceasefire.
Russian and American media have both suggested that a confrontation between east and west would very quickly become a worst-case global scenario, with the end result being widespread thermo-nuclear warfare, an option that neither nation has taken off the table.