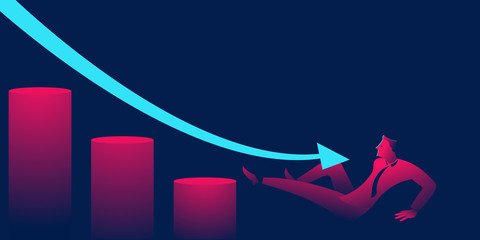 Some analysts are saying that a global recession is only one mistake away.  If central banks even slightly screw up, their actions could reverberate across the entire global economy causing an unprecedented economic recession.
Over the past decade, central banks have worked together to boost growth and transfer wealth to the top via economic policies designed for that purpose.  That's the debt-based system people around the world are used to. However, China and the United States aren't feeling very cooperative anymore, meaning their central banks may make one mistake that could cause the entire system to come crashing down.
The International Monetary Fund this week cut its forecast for global gross domestic product to 3% in 2019 and 3.4% next year. That's the weakest outlook in a decade, and down slightly from the lender's projections in July. (The IMF views a pace of less than 2.5% a recession.) So while that's not exactly rosy, comparing these numbers with the disaster of 2009, when GDP fell 0.1%, is very wide of the mark. The IMF also trimmed its outlook for China, which helped revive world growth after the past two slumps. economic recession. –Bloomberg
A Bloomberg journalist argues that if the central banks make just one tiny mistake in this already precarious economic situation they've already built, the entire house of cards will come crashing down.  Central banks have been easing "simultaneously," IMF Chief Economist Gita Gopinath told reporters Tuesday in Washington. Without that stimulus, which is likely to increase, the lender reckons the trajectory of world growth would be 0.5% lower.
Several central banks have cut rates this year and that points to the precarious nature of the global economy. Manufacturing is slumping, fiscal policy is patchy and an awful lot rides on the shoulders of consumers, whose spending is buttressed by low unemployment across major economies. The IMF's Gopinath warned that a policy mistake could easily push this expansion off the rails.
There is no better time to fortify your finances than now.  If you haven't started preparing for the central banks to make a mistake, it's not too late. Start by increasing the overall health of your personal budget.  Dave Ramsey's advice for this is comparable to none.  Get an emergency fund in place to secure your finances in a very insecure world.
In his book, The Total Money Makeover: Classic Edition: A Proven Plan for Financial Fitness
, Ramsey explains how to improve your financial health.
By now, you've heard all the nutty get-rich-quick schemes, the fiscal diet fads that leave you with a lot of kooky ideas but not a penny in your pocket. Hey, if you're tired of the lies and sick of the false promises, take a look at this—it's the simplest, most straightforward game plan for completely making over your money habits. And it's based on results, not pie-in-the-sky fantasies. With The Total Money Makeover: Classic Edition, you'll be able to:
Design a sure-fire plan for paying off all debt—meaning cars, houses, everything
Recognize the 10 most dangerous money myths (these will kill you)
Secure a big, fat nest egg for emergencies and retirement!