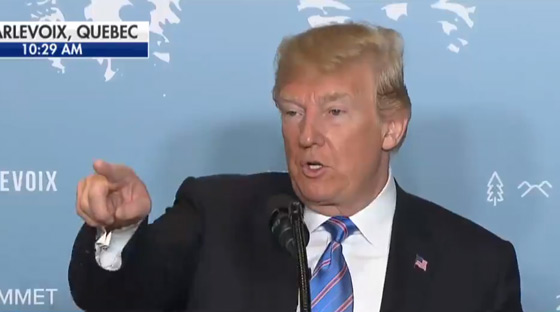 As President Trump met with European leaders at the G7 Summit, many news organizations reported that the relationship between he and leaders of Germany, Canada and Japan are strained. So much so that as President Trump was speaking to reporters a journalist from CNN asked him about the globally viral reports, to which the President amusingly responded:
Reporter: There was a sense that the America's closest allies are frustrated with you and angry with you… and you were angry with them…

President Trump: Who are you with out of curiousity?

Reporter: CNN

Trump: I figured… fake news CNN… The worst…
But while Trump always takes the opportunity to jab at CNN and highlight the inconsistencies and obfuscations in their reporting, the real meat and potatoes of his response turned out to be one of the most powerful moments in his Presidency thus far as it relates to his position on global trade and tariffs.
Highlighting trade deficits and unequal trade practices by "America's closes allies," Trump noted that, while his relationship with G7 leaders is a "10" on a scale of 0 to 10, they are indeed frustrated with his unwavering America First principles:
The relationships I've had are great… and you can tell that to your fake friends at CNN…

The relationships I've had with the leaders of these countries… I would really rate on a scale of zero to ten.. I would really rate it a ten.

That doesn't mean I agree with what they're doing and they know very well I don't… so we're negotiating very hard on tariffs and barriers.

As an example, the European Union is brutal on the United States… and they know… when I'm telling them they're smiling at me… it's like they know the gig is up… the gig is up… there's nothing they can say… they can't believe they got away with it…

So it's going to change… and if it's not going to change we're not going to trade with them.
President @realDonaldTrump: "Who are you with out of curiosity?"

Reporter: "CNN."@POTUS: "I figured – Fake News CNN. The worst." https://t.co/loE9a2983N pic.twitter.com/qSlglCCjCU

— Fox News (@FoxNews) June 9, 2018
For those who prefer not to watch the above clip, it can be summed up in a few seconds by this well known CNN Smack Down video:
*Warning: Some viewers with snowflake inclinations may find this video disturbing*