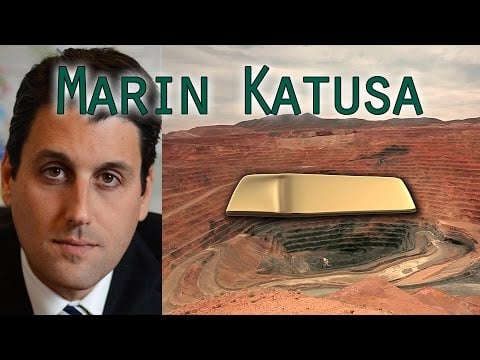 In an interview with X22 Spotlight, the YouTube channel, Marin Katusa, a best-selling author discusses how the general public is waking up and that this is only the beginning.  Now is the time to watch what gold is doing and figure out just how enslaved we all have allowed ourselves to become by the powers that shouldn't be.
Katusa is the author of the New York Times bestseller, The Colder War: How the Global Energy Trade Slipped from America's Grasp. The book details how the massive power shift in Russia threatens the political dominance of the United States
There is a new cold war underway, driven by a massive geopolitical power shift to Russia that went almost unnoticed across the globe. In The Colder War: How the Global Energy Trade Slipped from America's Grasp, energy expert Marin Katusa takes a look at the ways the western world is losing control of the energy market, and what can be done about it.
Russia is in the midst of a rapid economic and geopolitical renaissance under the rule of Vladimir Putin, a tenacious KGB officer turned modern-day tsar. Understanding his rise to power provides the keys to understanding the shift in the energy trade from Saudi Arabia to Russia. This powerful new position threatens to unravel the political dominance of the United States once and for all.
Russia Plans To Beat US Sanctions By Stockpiling Gold
Katusa begins the interview by saying if you just look at the level of debt piling up around the globe, it's beginning to become clear that the Keynesian economic system we are being forced to live under is not working anywhere. "Gold is now really coming into its own as a hedge to the collapsing currencies that we see going on right now," says Katusa. "
So what does it mean when the United States dollar is bullish and in short supply while gold is going up? Katusa says, "there's a positive carry to holding gold."  Basically, the negative yield and negative interest rates are demolishing the amount of money people have, but "you can't dilute gold," Katusa says.
Katusa feels that gold is the right way to protect yourself from the negative rates which is nothing more than a way to take money from those who have done everything right and saved for themselves.
The Eternal Relationship Between Gold And Global Crisis
The World's Central Banks Are Buying Gold At The FASTEST PACE In 6 years!
"Gold is the greatest insurance you can do for your net worth and your family and the governments are well aware of it," says Katusa.