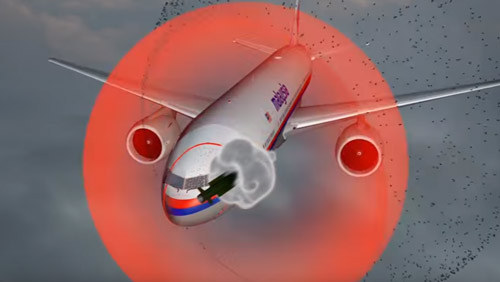 Speculation abounded when Malaysian flight MH17 was shot down over the Ukraine in 2014.
Initial media reports indicated that separatist forces loyal to Putin were responsible. But that was quickly disputed by Russia, who claimed that it was the Ukrainian military who fired the fatal blow. Satellite photos provided by the Obama administration were immediately disputed. It has been suggested that the entire incident was a false flag designed to lay blame on the Russian President at the height of the Ukraine conflict.
Of interest is the fact that Vladimir Putin himself was reportedly flying over the area in an airplane whose colors resembled that of the Malaysian flight, suggesting that Ukrainians may have been taking a shot at the highest-level target possible at the time.
The following animation and report from Dutch officials in The Hague doesn't shed new light on the origins of the missile, but it does provide details of how the flight was brought down and shows a Russian-made Buk Surface-to-Air missile approaching its target and then detonating its deadly payload, killing the pilots instantly. The airplane then broke up between business class and economy class and fell to earth, killing all of the passengers on board.
Related:
RAW VIDEOS: Rebels Shoot Russian Pilots As They Parachute; Chant "Allahu Akbar" Over Dead Bodies
WATCH: Russian Cover Up? Polish Govt's Airplane Crash Videographer Assassinated!
Flight MH17 – What You're Not Being Told
Rebel Leader Says Many of the Dead Bodies in MH17 Weren't "Fresh"