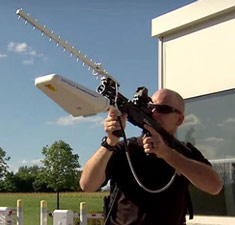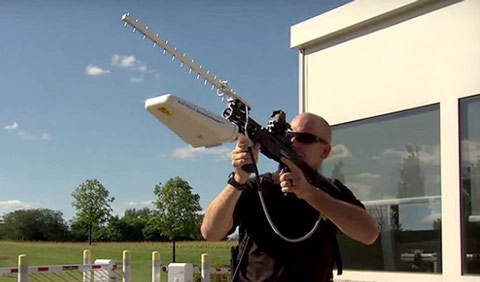 Earlier this year a remote controlled drone quadracopter was flown onto the White House lawn in a security breach that left the Secret Service embarrassed and looking like amateurs. The national security apparatus immediately went into overdrive looking for ways to mitigate future threats posed by the new robotic technologies and it's not hard to see why. Assassination drones pose a serious threat to personal security, especially as it relates to high-profile figures like politicians.
In fact, law enforcement personnel are already weaponizing drones and just this year a teenage robotics hobbyist was able to arm one with a semi-automatic handgun.
Moreover, we've seen countless reports that drones are being used with increased frequency to spy on unsuspecting Americans going about their business on their own property. In July a man was arrested for shooting down a drone that had been hovering over his house and recording his teenage daughter.
While new drone evasion technology like suits that hide your thermal signature are now being made available to the public, there appears to be a desperate need for counter-measures to thwart the growing threats posed by flying drones.
Enter Batelle, the makers of the DroneDefender, which has been dubbed the first portable, accurate and rapid-to-use counter-weapon designed to stop hostile drones.
It's a simple point and shoot technology, but it doesn't use bullets. Instead, it utilizes targeted radio waves to force drones out of the sky.
Ohio-based nonprofit research and development firm Battelle this week unveiled a device it calls the DroneDefender, which it says is "the first portable, accurate, rapid-to-use counter-weapon to stop suspicious or hostile drones in flight, providing critical security protection at home and abroad." While it's not a weapon in the conventional sense, it represents a huge step in the fight against unwanted drone activity.

…

The DroneDefender may be our first look at the perfect anti-drone technology. The device, which looks like a modern rifle with an antenna mechanism attached to the front — because that's basically what it is — uses targeted radio waves to force drones out of the sky. The nondestructive tech "utilizes a non-kinetic solution to defend airspace up to 400m against UAS, such as quadcopters and hexacopters, without compromising safety or risking collateral damage."

Source: BGR
You can watch the video below:
We suspect that this first-generation technology will soon be in the hands of homeland security officials across the United States. And it is likely that consumers – especially the privacy minded – will be interested in getting their hands on them as well.
But given the power of this technology, we can already see the writing on the wall. It won't be long before government officials outlaw drone counter-technology for the general public and they'll more than likely argue that if we let the public buy this anti-drone tech then it will easily fall into the hands of terrorists, making President Obama's drone wars in the middle east ineffective.
Further, as the U.S. government authorizes the deployment of literally thousands of public safety drones to watch American citizens over coming years, counter-technologies in the hands of the public pose a serious threat to the surveillance state.
So while we applaud the advanced of technologies that make it more difficult to spy on innocent Americans, we're not holding our breaths that these anti-drone guns will make their way into the hands of concerned citizens.
Also Read:
Defeating Drones: How To Build A Thermal Evasion Suit *Video*
Police Deploy Weaponized Drones To "Enhance Protection and Safety of Citizens"
Town To Issue Licenses and Bounties To Shoot Down Drones: "They Fly In Town, They Get Shot Down"
Teen Who Built Gun-Firing Drone Arrested for Assaulting Cops
Assassination Drones: A Tremendous Threat to Law Enforcement: This Technology Will Reshape the Meaning of "War"