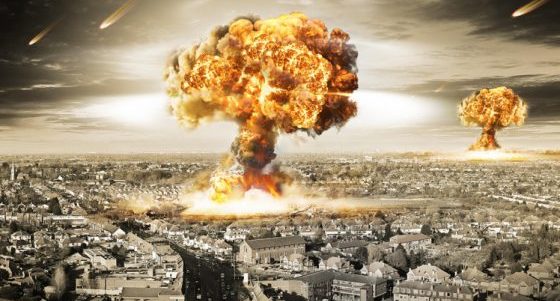 Elevating fears of a third world war even higher, an ex-Soviet general has come forward declaring a nuclear war between the United States and Russia is unavoidable and "inevitable." Evgeny Buzhinskiy, a former Lieutenant-General under the Soviet Union says that Russia will never accept "any kind of defeat."
Because Russia is "lagging behind" the US in terms of military power, Putin would rather order a nuclear strike than accept defeat on the battlefield, Buzhinskiy said. Buzhinskiy, who joined the USSR's armed forces in 1968, said the increasingly acrimonious standoff between Russia and the US is "worse than the Cold War."
"Russia will not accept any kind of defeat, so the involvement of nuclear weapons is inevitable," he told Channel 4 News. 
US President Donald Trump ordered his military to launch almost 100 missiles at alleged chemical weapons facilities across Syria in response to the "toxic" attack.   Britain and France also took part in the "perfectly executed strike" that Trump declared "could not have had a better result", tweeting: "Mission accomplished." But the strike against Bashar al-Assad, whose government has the backing of Putin, has plunged Russian-US relations to new lows, with both sides exchanging fierce rhetoric.
"I think it's worse than the Cold War, which we have been waging for 40 years after the Second World War," he said, speaking to presenter Matt Frei, according to The Daily Star. "In the Cold War time I was in the armed forces and I was quite comfortable I'd say. There were definite duels and definite red lines – everybody knew what to do. There were no threats, no sanctions, no isolation, no cornering, no nothing. There was just ideological confrontation, but people on both sides knew how far they could go."
Buzhinskiy admits, that as a grandfather, he's scared of what could happen as this conflict with Russia escalates driven by false flags.
When asked if the US and Russia might "face off against each other" with nuclear weapons, he replied: "Of course. I repeat: you cannot control military confrontation between Russia and the United States."
Last week Buzhinskiy warned that Putin would respond in kind if "Russian blood is spilled" during the US-led Syria strike.   "We have several thousand advisers in all military installation in all military units," he said. "If Russian blood is shed then Russia will retaliate."
Sleep tight, everyone.