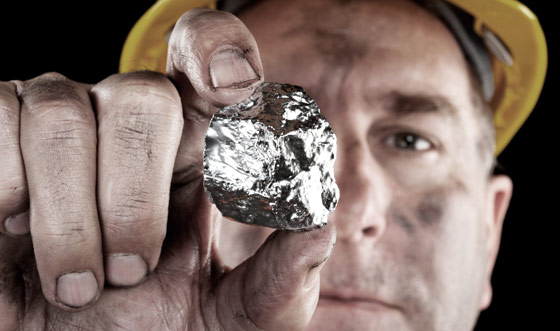 Keith Neumeyer, a precious metals expert, sat down for an interview with Shawn of SGTReport.  Neumeyer discussed a number of things, including precious metals and the mining industry, and the crazy stock market ride we are all experiencing.
Eluding to the finite economic law of supply and demand, Neumeyer says "we are going to need more silver as we develop further, and it's just simply not around." In this manipulated market, silver investors are being punished for holding the precious metal.
Silver has become so scarce because tech companies use it in everything and need to keep the costs down. But they won't come out and tell the public just how much silver they need, said Neumeyer, and that's all by design. You cannot build a Boeing plane without silver. Nor can you build a computer, an iPhone, a solar panel, or a Tesla.  All of this is ironic but intentional.
*Watch the entire video for important insights into the silver market and the future of the silver mining industry, as well as what will happen if President Donald Trump gets his way and this country faces zero or negative interest rates.
"A lot of people don't realize how important these metals are yet and we don't get fair pricing," Neumeyer said.  This is all happening in a heavily manipulated economy too, one which some analysts call a "Ponzi scheme."  And this Ponzi scheme could rival that of the social security Ponzi scheme. 
Neumeyer himself says he bought 200 ounces of physical silver in the form of Canadian Maples.  
He also says he "regularly" converts his cash into real money by buying physical silver.
He touched on the coronavirus as well, saying that in Vancouver, 20-30% of the population is walking around with face masks to prevent infection with the virus.
Neumeyer also talks about the Federal Reserve's current repo and the silence around why and when they are printing money. One theory is that this is being done to cover the shortcomings in the manipulated gold and silver market.
In Michael Maloney's Guide To Investing in Gold & Silver: Protect Your Financial Future
, the reader will learn the essential history of economic cycles that make gold and silver the ultimate monetary standard.
"Throughout the ages, many things have been used as currency: livestock, grains, spices, shells, beads, and now paper. But only two things have ever been money: gold and silver. When paper money becomes too abundant, and thus loses its value, man always turns back to precious metals. During these times there is always an enormous wealth transfer, and it is within your power to transfer that wealth away from you or toward you." – Michael Maloney, precious metals investment expert and historian; founder and principal, GoldSilver.com.
How To Buy Precious Metals: Simple Precious Metals Buying Guide For "Insurance"