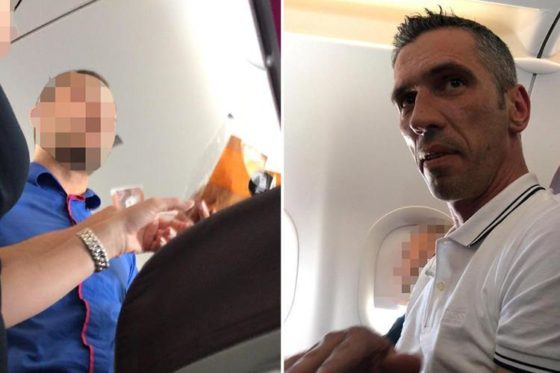 A Muslim passenger on a Wizz Air flight from Luton, England, to Skopje, Macedonia, had a tantrum when the sandwich he ordered wasn't quite what he was expected.
The passenger launched into a tirade, calling a flight attendant a "stupid f***ing b***h" after incorrectly accusing her of serving him pork.
The man was given a "turkey ham" sandwich made from turkey and compatible with Islamic dietary customs.
In video footage captured by another passenger, the man became increasingly aggressive, which reportedly concerned fellow passengers.
Watch:
Despite the attendant showing him the ingredients list on the sandwich package, the man grew angry and proceeded to verbally berate the young woman, reports NewsWars:
"This is not right, you should tell people there is pork, I'm a Muslim," the man said. "It's pork, darling… What the f**k is your problem, stupid f**king bitch? She's a f**king bitch man. She told me it's not appropriate to touch my teeth, f**king slut."

"You have given me ham, and you're talking to me rude. I just tell you it's ham, you tell me it's not pork. It's not nice, darling, you're supposed to be nice to the customers."
A senior male steward tried to calm the man down by explaining that "turkey ham" was a term used to describe the processed turkey meat, but the man continued his rant.
The crew eventually refunded the man 4.50 euros for the sandwich and two euros for the bottle of the water, which he kept, reports The Sun.