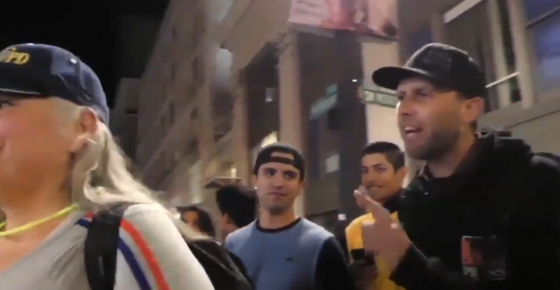 The extreme left is getting far more obnoxious by the day, particularly in Portland, Oregon.
Last weekend, a leftist who appears to be an Antifa protester verbally berated a woman – and it was caught on video.
His big mouth caught up with him, though… (the good part starts at the 0:36 mark):
Here's the full video…sure looks like the Antifa tough guy is hiding behind some women towards the end there, doesn't it?
Benny Johnson of The Daily Caller shared the video clip, and then followed with a through-provoking Tweet about leftist violence…
Here's a super important question: Why is it the Left who are always the ones berating & attacking women?

I'm not talking 30 year old unsubstantiated accusations – literally on video & police reports https://t.co/Pgn4SQ4oPB

— Benny (@bennyjohnson) October 18, 2018
We need more of this…There needs to be some pushback. The left is becoming increasingly dangerous.

— Frank Savannah (@FrankSavannah6) October 19, 2018
He saw what a real man looks like. Nothing to do with size, and everything to do with integrity.

— Ian (@ischoz31) October 18, 2018
Gee, I wonder why he didn't stay to share his opinion with the large intimidating man.

— Chris Todd (@ctodd1953) October 19, 2018
That's how they roll! That's what'll happen when SHTF no doubt. They cannot and will not face adversity head on. The pink hats suit them

— Parker Mullins (@LPMullins) October 19, 2018
Cowards. Pick on women & older folks.

— MorrisOcean1 (@morris_ocean1) October 18, 2018
Amazing how brave they are when picking on a woman or housing someone in a group, total cowards when taken on one-on-one.

— Jon (@NorthernPleb) October 19, 2018
Seen this before, but without the bit on the end. The time is coming when reasonable people are going to push back against these crazies. It is not going to be pleasant, They rely on Conservative decency and restraint, but that restraint is not unlimited. #resist #AntifaFascists

— thenunssob (@thenunssob) October 19, 2018
You are absolutely right. As hard as we try to maintain stability there will come a time when enough is enough. I really do pray that it doesn't come to that

— Marcus Trejo (@mjtrejo68) October 19, 2018
IMO it's long been past that time. Fortunately it seems that at least in a non-violent, political sense people on the right have started to understand that we are fighting a very dangerous, well-financed group of lunatics on the left, we can't keep losing "with dignity" anymore.

— Michael (@trendy) October 19, 2018
Be careful who you pick on… they may know people bigger and stronger than you…. #Karma

— Jojo the American (@Jojotweets3) October 18, 2018
When you can't hide behind a screen.

— Sam Spencer (@SamSpencer1) October 19, 2018
What a great illustration of the LEFT's response when we conservatives stand up for our beliefs against insults and PC nonsense. This video reminds me of the playground bully that loses his nerve when confronted by someone his own size.

— Normie L (@normie_l) October 19, 2018
In the words of that great 20th c. philosopher, Iron Mike Tyson…"…everybody has a plan, till they get punched in the face"

— Mr Hollis Mulwray (@HMulwray) October 19, 2018
The case Johnson is referring to in the second Tweet is that of a Soros-funded Democratic activist was charged with battery on Tuesday against the female campaign manager of Nevada Republican gubernatorial candidate Adam Laxalt, reports The Daily Caller:
Wilfred Michael Stark, 51, who was employed by American Bridge 21st Century, founded by David Brock, was fired Wednesday night after he allegedly pushed a door open, "trapping" Kristin Davison, Laxalt's campaign manager, in the doorway, "grabbing her arm, and forcefully twisting it behind her back and squeezing," Laxalt's campaign communications director Parker Briden told The Daily Caller News Foundation.
Stark was previously arrested for allegedly assaulting the female press secretary for Interior Secretary Ryan Zinke in March and was charged with "simple assault" after he reportedly pushed her while trying to question Zinke.
Earlier this month,  Jordan Hunt, attacked pro-life advocate Marie-Claire Bissonnette at a Life Chain event in Toronto. He has been arrested (and fired) for violently kicking the woman. It wasn't the first time Hunt assaulted a woman – he pushed a woman off her bicycle in an August incident.
Expect the left-wing media to ignore the incident in Portland.