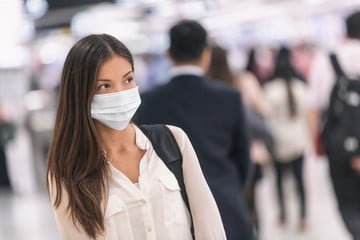 In the state of Washington, it is now a crime to not wear a face mask. As the mainstream media continues to ramp up the fears of a fake "second wave," Governor Jay Inslee makes face masks mandatory as the state "sees a surge in COVID-19 cases and a shortage of hospital beds."
But does anyone remember this?
Army's Seattle Field Hospital Closed After 3 Days & Without Seeing A Single Patient
People already proved the first round of COVID-19 was a scam and the tests are giving a more than 60% false-positive rate (likely testing for some DNA signature in all coronaviruses). In a study of the test's performance done in a cohort of 397 confirmed COVID-19 cases and 128 uninfected patients, the test showed a sensitivity of 89 percent and specificity of 91 percent.
At those performance levels, and assuming a COVID-19 prevalence in the tested population of 15 percent, the test would have a positive predictive value (PPV) of around 60 percent, meaning that around 60 percent of patients testing positive would actually be true positives. Drop the disease prevalence to 10 percent and the PPV falls to around 50 percent. At 5 percent prevalence, PPV could fall into the 30 percent range –360 DX
The forced mask-wearing is nothing more than yet another attempt to gin up fear. Inslee said during a news conference that the rule, which goes into effect Friday, requires masks in indoor settings, as well as outdoor settings if social distance rules cannot be maintained.
WATCH : Governor Inslee Press Availability https://t.co/P5ntSiAFeS

— Governor Jay Inslee (@GovInslee) June 23, 2020
In other words, if you haven't panicked to the point you'll allow the government to inject whatever untested toxic vaccine into you and your children, you are the target.  They are going to do everything they can to make sure you lower your vibration to that fear level so they can maintain ultimate control. There's plenty of scared sheep lining up to take the vaccine, but they need everyone to get it.
If you violate the new rule, you'll be met with government force and violence in the form of a misdemeanor crime. Inslee's statement is complete with total and utter propaganda designed to play on the gullible too:
"I think of these face coverings, in some sense, as a statement," Inslee said. "It's a statement that when you wear it, it means you care about people because it means you want to reduce the risk that you are going to infect another person."
https://www.shtfplan.com/headline-news/second-wave-panic-explodes-facemasks-become-signs-of-those-living-in-fear_06182020
Inslee said he's also planning to sign a proclamation that requires businesses in Yakima County to enforce the face-covering rule. If businesses don't comply, they will not be allowed to continue their operations.
They (the ruling class and elitists) are literally going to push as much and as hard as they can to get compliance. The most freeing feeling is that of knowing what they are doing and choosing to live freely anyway. The face masks mandate is more likely than not a distraction. Look for what they are doing behind the scenes. This is going to get more interesting.
Remember, the big secret they don't want you to know is that they need us or their entire system fails. We do not need them.