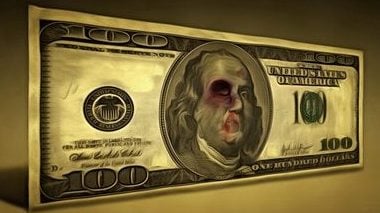 If you haven't heard, the United States Federal Reserve, the central bank is printing exorbitant amounts of money to cover for their mismanagement of the economy and the fiat currency. Economists are coming out in droves now, warning that the dollar is going to fall "very, very sharply."
Lynette Zang: The Plandemic is a Cover For The "Global Financial Reset"
The time to prepare is now.  It's hard to say how long central banks can prop up the dollar, especially considering the Great Reset has already been announced, as the plans for a one-world currency under the New World Order goes forward.
The Great Reset Is Here: Prepare For The NWO & Enslavement
Stephen Roach, a prominent economist. Yale University senior fellow and former Morgan Stanley Asia chairman has a warning for U.S. dollar bulls.
Roach says that the era of the U.S. buck may be coming to an end and is forecasting a 35% decline soon in the U.S. currency against its major rivals, citing increases in the nation's deficit and dwindling savings, according to a report by Market Watch. 
The lecturer said during CNBC's "Trading Nation" on Monday that the rise of China and the decoupling of the U.S. from its trade partners is setting the stage for a dramatic weakening of the U.S. currency in the next few years that is likely to end the supremacy of the monetary unit as the world's reserve currency. "The dollar is going to fall very, very sharply," Roach told the business network.
Roach's comments follow a similarly themed op-ed that he wrote in Bloomberg last week, in which he specifically declared that the "era of the U.S. dollar's 'exorbitant privilege' as the world's primary reserve currency is coming to an end. This won't matter much to the elitists, as they own most of the central banks on the planet.  This is why we've often suggested decentralized currencies, such as gold, silver, lead, and Bitcoin.
Worries about the global economy have traditionally encouraged buying of dollars along with other havens because of the perception of the U.S. as a stable economy and currency.

Roach, however, says that growing deficits will eventually change that perception and deliver a gut punch to the greenback. – Market Watch
If the dollar does drop, the best way to protect your wealth is going to be with metals. Start preparing now. Make sure you have some gold and silver to protect your wealth, some "lead" to protect your family or barter with, and, if you choose, a small amount of cryptocurrency. If you don't like crypto, at least consider precious metals. Do what feels right, and to me, holding metals feels a lot more secure than having money in the bank right now.
Leave the system.  Free yourself from the Matrix. It may not be easy, but it'll beat going down into slavery to the ruling class and elitists of the world.
https://www.shtfplan.com/headline-news/robert-kiyosaki-what-the-elites-dont-want-you-to-know_06132020