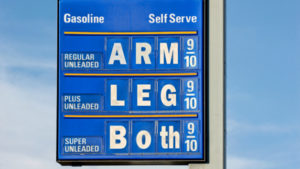 Americans should get ready to pay $5 per gallon for gasoline soon, according to "experts" and analysts. The rising prices are unlikely to come down anytime soon.
The blame is being placed on Russia's "invasion" of Ukraine and not the hyperinflation thanks to fiat currency creation. Gasoline has already hit over $5/gallon in San Francisco.
BREAKING: for the first time ever a US city has breached the $5/gal per gallon average. San Francisco!

— Patrick De Haan ⛽️? (@GasBuddyGuy) March 3, 2022
Oil prices surged another $7 per barrel on Wednesday after an agreement by the U.S. and other major governments to release 60 million barrels from their national reserves — half of them U.S. barrels — failed to quell supply concerns over Russia's attack on Ukraine, according to a report by CBS News. 
Oil traders were not impressed. "Markets dismissed the notion that 60 million barrels of strategic reserves released will be consequential to the risks of Russian supply jeopardized," Tan Boon Heng of Mizuho Bank said in a report. "Russia pumps more than that in just six days." –CBS News
"We think the Russia-Ukraine war will intensify global and U.S. inflation pressures by pushing up oil and gas prices," Brian Coulton, chief economist with credit rating agency Fitch, said in an email.
"While sustained higher energy prices pose downside risk to the outlook, we do not see them as enough to derail the recovery," investment bank Barclays found in a March report. "Fortunately, the shock to energy prices is hitting when the U.S. economic recovery is on relatively solid footing, with many states removing restrictions on activity as vaccination rates increase and COVID cases decline, and labor markets displaying notable resiliency in the face of the Delta and Omicron variants," economists wrote.
Make sure your budgeting includes higher prices at the pump. No one knows how far this conflict will go and how long it will last. And no one knows how high inflation can get. Be prepared for the difficult financial decision we all may be faced with in the coming weeks and months.