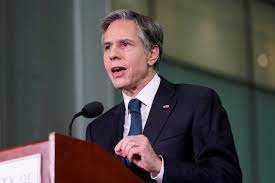 According to United States Secretary of State Antony Blinken, Washington will never agree to Russia's proposal to limit NATO expansion close to its borders by blocking Ukraine from trying to join the military bloc.  There is no room for compromise on Moscow's key concern he said.
"I made clear to Minister Lavrov that there are certain principles that the US, our partners, and allies, are committed to defend. That includes those that would impede the sovereign right of the Ukrainian people to write their own future. There is no trade-space there – none," Blinken said according to a report by RT. 
Speaking to reporters following talks in Geneva with his Russian counterpart Sergey Lavrov on Friday, Blinken said that the American side had given a "firm and substantive" response to two draft treaties proposed by Moscow. Blinken added that "we stand firmly with Ukraine in support of its sovereignty and territorial integrity. We have been clear – if any Russian military forces move across Ukraine's border… it will be met with a swift, severe and united response from the US, our partners, and allies." In addition, he claimed, any other forms of "Russian aggression," such as cyberattacks, would be met with a similar response.
NATO Secretary-General Jens Stoltenberg has criticized Moscow's requests, saying that the country has no veto on Ukraine's efforts to join the bloc and that it will not accept a "two-tier" membership system that prevents it from deploying troops in certain states.
Russia insists the measures are necessary to avoid conflict, with President Vladimir Putin saying that the West "cheated" Russia by giving assurances in the 1990s that the bloc would not expand into the space left by the fall of the Soviet Union. Poland, Bulgaria, Romania, and the Baltic states were subsequently admitted. –RT
The rhetoric continues, but it may be just that. It could also be the beginning of something bigger. Continue to watch the situation and stay aware of what's going on. Anything is possible and we all should be prepared just in case.