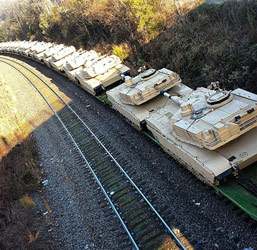 There's been a lot of concern over the upcoming Jade Helm exercises taking place in several U.S. states this summer. The operation to "master the human domain," as the military refers to it, is such a significant event that Governor Greg Abbott promised Texans he'd have the State Guard on stand-by to ensure the Federal government wouldn't use the purported training operation to implement a state of martial law. His actions, though attacked by some, show just how far Federal law enforcement overreach in America has come since September 11th, 2001.
There are a great deal of Americans who are scared of where operations like Jade Helm and economic collapse simulations are going. Military, law enforcement and government officials say these types of exercises are just business as usual and there's no imminent crisis approaching. It's a typical response from a bureaucracy that has been labeled the most secretive in history, and since very little substantive information is being released to the public by traditional information pipelines like the corporate media, many have turned to alternative sources to gather information they can't find anywhere else.
Last week, for example, a Texas Ranger made the claim that shackles have been spotted on train cars moving through the state, a report that laid further credence to the notion the government is preparing for a crisis situation where they may have to subdue, detain and incarcerate large groups of people. Given that the focus is on states the government has dubbed "hostile" (such as Texas and Utah) it wouldn't be outside of the realm of possibility that a widespread crisis, complete with civil unrest that will require swaths of armed personnel, is exactly what the government is preparing for.
The Texas Ranger's claims were dismissed by some as fabrications, especially since he chose to remain anonymous for fear of repercussions given the stance the government has recently taken with whistle blowers.
But despite the marginalization of whistle blowers and news outlets like Infowars.com,  The Common Sense show, and scores of others, the government is obviously preparing plans for dissident roundups in the future. The facts on this are clear and the President even signed a Doomsday Executive Order in 2012 giving himself the authority to seize everything from water and food resources to power plants and skilled laborers should he ever have to declare a national emergency.
Perhaps a federal takeover through a martial law declaration is not imminent over coming months, but how else can we explain the absolutely massive exercises now being positioned across the continental United States?
And what are we to tell our children when they see the war machine in full swing on the streets of America?
Here's a small selection of what people around the country have been able to record and broadcast as the government gets ready for this summer.
Captured in Slayton, Texas within the last 24 hours:
(Mickey Sprous via Tess Pennington)
And if they're not preparing to deal with civil unrest and large, unruly and potentially violent crowds of people, then what do they need all of these microwave weapons for?
Spotted on I-80 near Reno, Nevada:
(All News Pipeline via Steve Quayle)
Along I-5 in Southern California: "Those trains are full of equipment…"
Helicopters all over the country:
And of course, no "Mastering the Human Domain" military exercises would be complete without dissident arrests. This may explain why the Texas Ranger mentioned above reported shackles in train cars. And, once arrested, they'll have to transport these people. It's been suggested that FEMA camps are already prepared to handle large populations of prisoners.
Does this look like a typical training exercise to you, and one that is supposedly designed for foreign theaters of war as claimed by military officials? Or do you think maybe someone, somewhere is planning for a major domestic crisis event in the near future?